Alibaba Cloud together with Unilever will present modern initiatives in promoting products online. This initiative will help Unilever, as one of the largest companies in the production of consumer goods, to occupy a niche in the online market.
Unilever can use the respected artificial intelligence (AI) and cloud technology of Alibaba Cloud as part of this collaboration, to automate its service to drive online and offline demand around the market. Smart Analytics will help you gain accurate information on Unilever product projects and behavior via Alibaba Cloud applications.
Unilever will enable data-driven business research to speed up the development of innovative digital marketing strategies that are explicitly tailored. It will also help Unilever to forecast evolving consumer buying preferences across multiple channels more reliably and rapidly.
The Alibaba Cloud Solution can help Unilever to achieve optimized brand experience in consumer purchases with its online stores in Taobao and Tmall by taking Unilever Digital Marketing to a new level.
For marketers to keep on top of customers' ever-changing needs and habits, the ability to understand their shopping habits is essential for keeping the brand messaging relevant for each customer Selina Yuan, the president of international affairs, Alibaba Cloud Intelligence
Despite the positive news regarding the development of Unilever, the share price on Tuesday began declining. The price fell slightly by 0.13%. Over the past week, the stock has been trading in a range between $46.80 and $48.04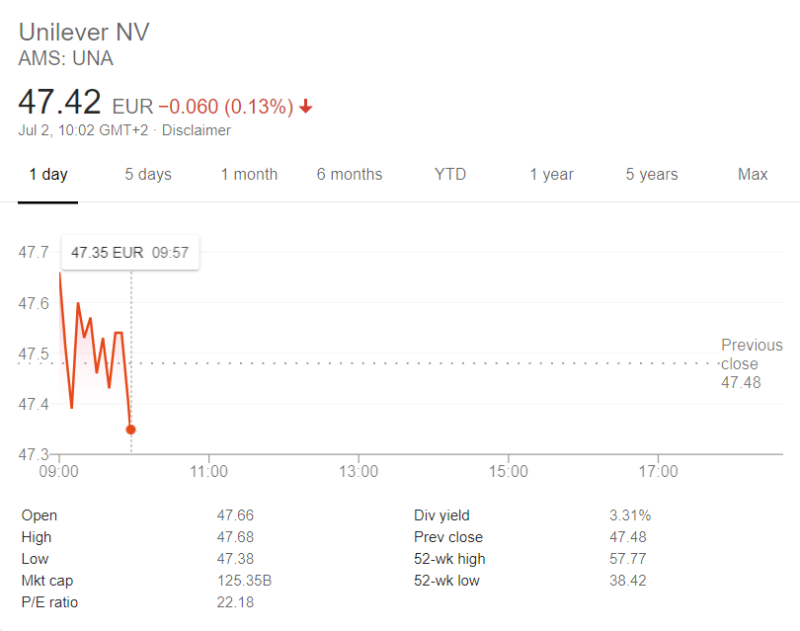 Image source: Google Finance