Trading is not an easy task to do. You need to have skills to get profit. In order to get the knowledge, you can learn more about trading on various websites. However, the fastest way is to sign up for some special trading courses. We are going to give you a brief overview of some of the best trading courses that you can find on the web.
BearBullTraders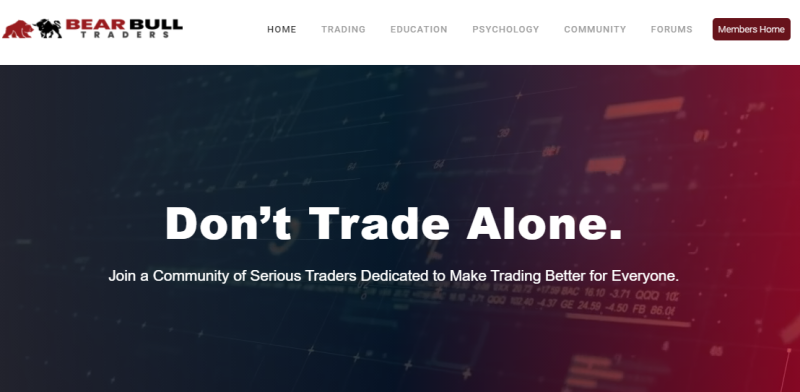 Image Source: BearBullTraders
This is not a simple trading course. BearBullTraders is a community of traders, where you can find all sorts of necessary tools to prepare yourself for trading routine. The education section includes classes, webinars, books, audiobooks, and video materials. 
What are the topics you can choose from? BearBullTraders allows you to start from the very beginning and get the basics of trading. Moreover, you are going to dive into the analytical features including various levels, trendlines, graphic tools, and indicators. 
There is also a trader's simulator that you can try for free for 14 days. This is a demo version of a trading platform simulating real trading conditions. The platform is called DAS Trader Pro. Here you can get access to NASDAQ Level 2 Market Depth. Once the trial period is over, you will have to pay $100 per month to use this training platform. 
Apart from analytical methods, you will get more information about trading psychology. You will learn about how the emotions influence your trading results and how to minimize their impact on your trading outcome.
Bulls On Wall Street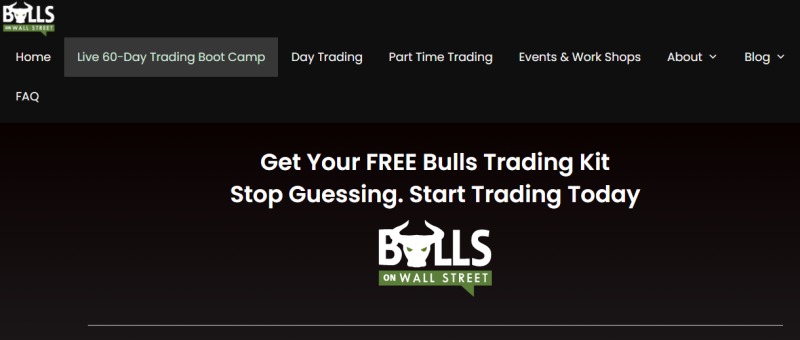 Image Source: Bulls On The Wall Street
This trading course has many features that you can benefit from. It includes live 60-day Bootcamp. This is a set of videos where you can learn more about trading. The mentor of this Bootcamp is Kunai Desai. He is a trader and a teacher. He is traveling across the world to meet his students and attend various events. 
You can find here an introductory trading course, which is one of the best sources for young market participants to learn more about the trading specifics. Here you will get the basics of trading. This trading course is about market analysis, money and risk management, and other important aspects. There is also a one-on-one trading consultation where you will work with a professional trader. He is going to consult you on various aspects of market speculations.
There are also various materials and courses to choose from. For example, if you subscribe to this website, you will be able to get plenty of useful articles about the most common mistakes FX traders and others make. Those who are not ready to dedicate all their time to trading can learn more about part-time trading features.
Day Trading Academy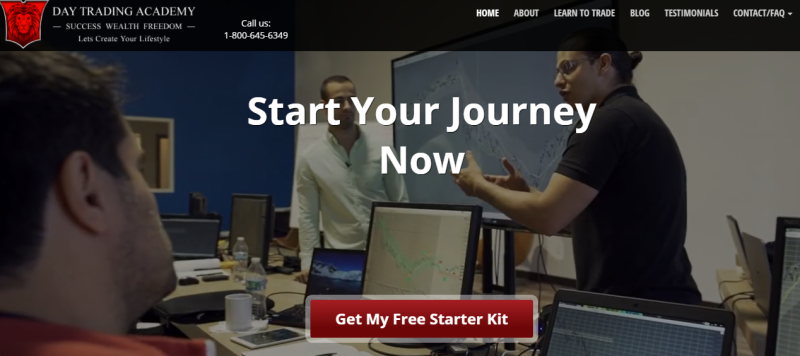 Image Source: Day Trading Academy
This trading school is one of the best places to learn more about trading. Here you will find out more about various trading platforms and charts. Day trading Academy will teach you how to daytrade and get profit from smaller timeframes price fluctuations. 
This course offers a very rich program including various aspects of trading. Here you can learn more about the support and resistance areas, indicators, trading strategies as well as graphic analytics tools. You will also learn price action trading system, which is universal for all types of assets and markets. You can use price action when you trade currencies, stocks, indices, various funds, and even cryptocurrencies.
Day Trading Academy provides its own blog where you can find some global market research. They prepare a market recap allowing you to learn more about some important events and current market situations. 
To briefly summarize, this course is for those who want to learn how to daytrade. They will teach you how to make decisions in daily trading sessions. This course is the best solution for those who want to use Hourly and Minute charts for trading.
Nial Fuller's LearntoTradeTheMarket

Image Source: Learn to Trade The Market
Nial Fuller appeared on our list for its professional approach to the price action trading system. He can be called one of the best PA traders in the modern financial market's history. Nial Fuller offers a great course that will teach you how to use support and resistance areas combined with the price action signals.
What can you learn there? Nial Fuller offers a wide range of price action models that you can easily use in your daily trading routine once you complete the course. The official website supplies some useful videos about the lessons that Nial Fuller gives to his students. You will be able to watch those lessons and make a final decision.
There is also a special forum for members of Nial Fuller's school where you can discuss live trading setups with other community participants. All courses are in a form of videos that you can watch any time you want. 
TD Ameritrade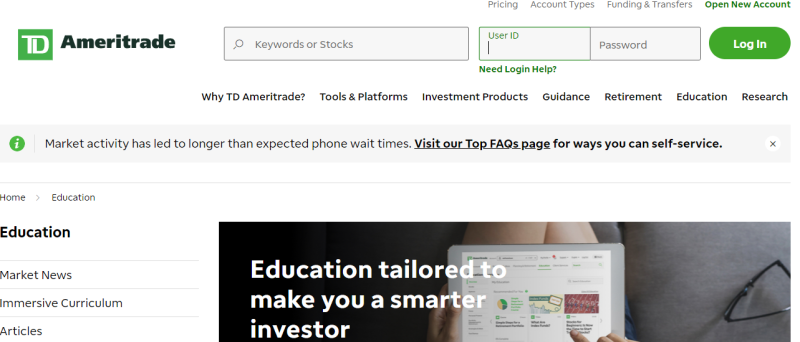 Image Source: TD Ameritrade
This company is not only one of the best US brokers, but also a great training platform where you can learn more about trading. There are plenty of articles, videos, and webcasts that will teach you how to do your best to get profit in most market situations. 
What can you learn there? There is a full set of useful and insightful articles on various trading aspects. For example, you will learn common trading mistakes. Moreover, TD Ameritrade is one of the best courses ever to learn technical analysis. 
What else can you do there? There are several videos that you can watch to improve your skills. Here you will learn more about investment opportunities and financial instruments that you can use. TD Ameritrade will teach you not only about trading and investment but also about personal finances and taxes.
There is also a section dedicated to market news. It is rich in the events and latest trends. TD Ameritrade offers a traditional reports' section where you can find out the latest reports and events that may have a significant impact on the market in total and on some companies in particular.
Conclusion
Those are not all the courses that you can keep an eye on to learn more about trading and to become a professional investor. However, those courses can be considered to be the best way to start your financial market career. They will teach you various trading aspects that you will need in your daily routine. Moreover, most of those schools have their own traders' communities. You can take part in the discussions of price movements and give your own opinion on this aspect once you have enough skills and experience.