The oil prices have lost around 3% in the last working day of the week because of the raising concerns about the growing tensions between China and the US.
USD/CAD had an uptick which lacked momentum as there are some positive factors supporting risk appetites. The optimism turns around the probability of getting anti coronavirus vaccine in the nearest future and the V-shaped economic recovery predicted by some experts. USD is still under the pressure.
Even so, the number one negative driver remains strong. Economists and investors have fears about the future escalation of the conflict between the two superpowers.
Meanwhile, today's better than expected GDP data from Canada had almost no impact on the currency pair. Canadian GDP expected to contract by 9.0%. Even so, the final result was -7.2%, which is better.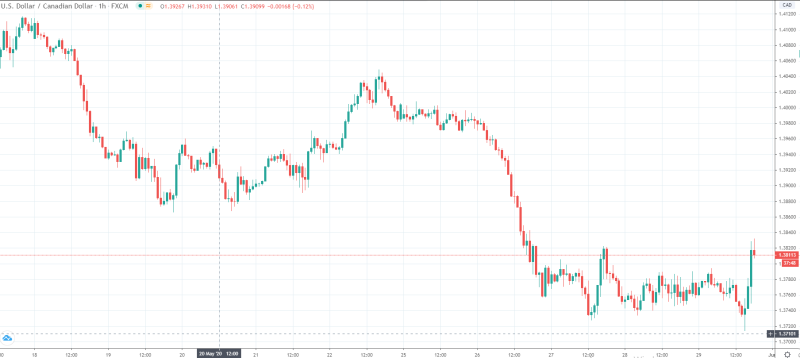 USD/CAD
What are the events to pay attention to in the nearest future
There is a lack of data for the last part of the day. The Fed's head Jerome Powell is going to have a speech on Friday. The US President will take a word on Saturday.
The beginning of the next week will be relatively calm. Market participants are likely to pay attention to the Monday's US manufacturing PMI ISM. The final result is expected to be better than the previous reading.
The Bank of Canada will gather on Wednesday to decide the monetary policy for the next period. There is no doubt they will change nothing for the moment, but this event may affect the currency pair in some way.
Wednesday will be rich in events. US non-manufacturing PMI ISM is going to be released this exact day. The experts expect this indicator to show better results for the reported period.
Canadian Labor market data will be released on Friday. There are no forecasts for the moment. You need to monitor the situation. US Labor market data will be released on Friday too. According to the latest expectations, the Unemployment rate is going to reach 19.5%. As for the number of new payrolls, they are expected to reach -8 000K, which is better than the previous reading.