Ontology partners with Waves to establish a cross-chain interface which will facilitate the interactions and extension through ongoing partnerships of both ecosystems' chains.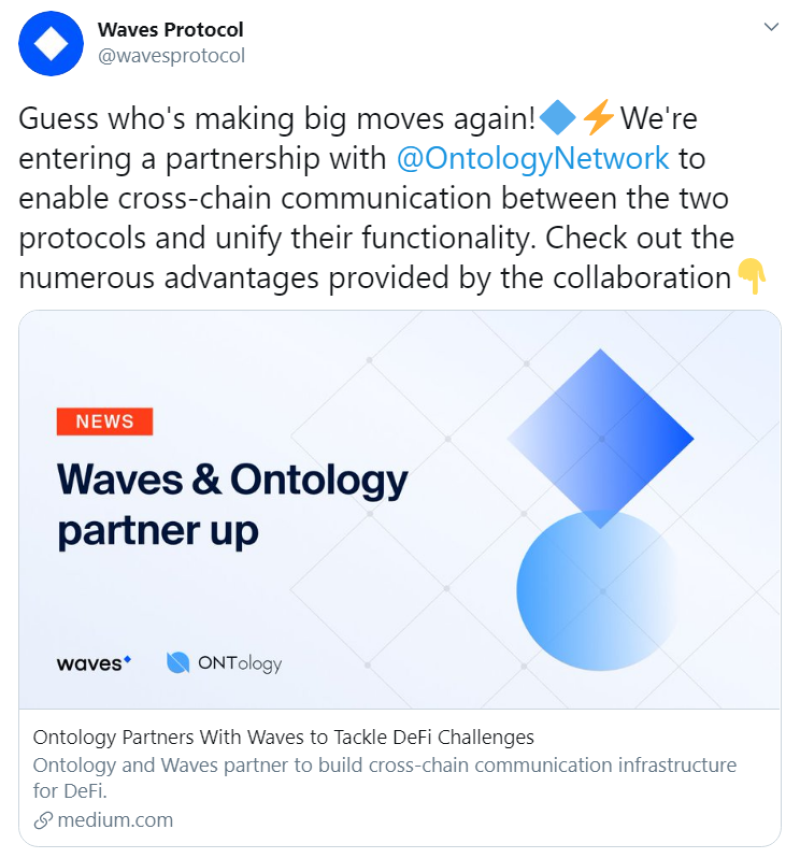 Image source: Twitter @wavesprotocol
In addition, Ontology acts as one of the Gravity target chains, a decentralized oracle network blockchain-agnostic within the Waves ecosystem. Ontology provides useful data for waves that contribute to cross-chain operations and token transition data, as well as external data from ontologically dependent oracles or DApps.
Thanks to its Gravity interoperability, together with inter-chain oracles of interconnected chain and oracle systems, DeFi-inter-chain solutions and DApps can allow users to create the next generation of stable Cloud 3.0 applications. This kind of cross-chain connectivity is feasible.
Working in collaboration with Ontology Marks is a first step in the strategy of both protocols to mutually enable their projects to be embraced, by supplying DeFi developers with new tools for cross-cutting compatible DApps.
This is just the tip of the iceberg and Waves and Ontology are beginning to work together to create an interoperable array of DeFi interoperable technologies that will lead the industry's future.
Earlier, we reported that the Ontology's blockchain was updated to version 2.0. This update enabled cross-chain transactions.