The team of the Chinese blockchain project Onlotolgy published the version of the blockchain 2.0 on their GitHub page. A new Ontology layer, Layer 2, is introduced and it is opened and ready for business.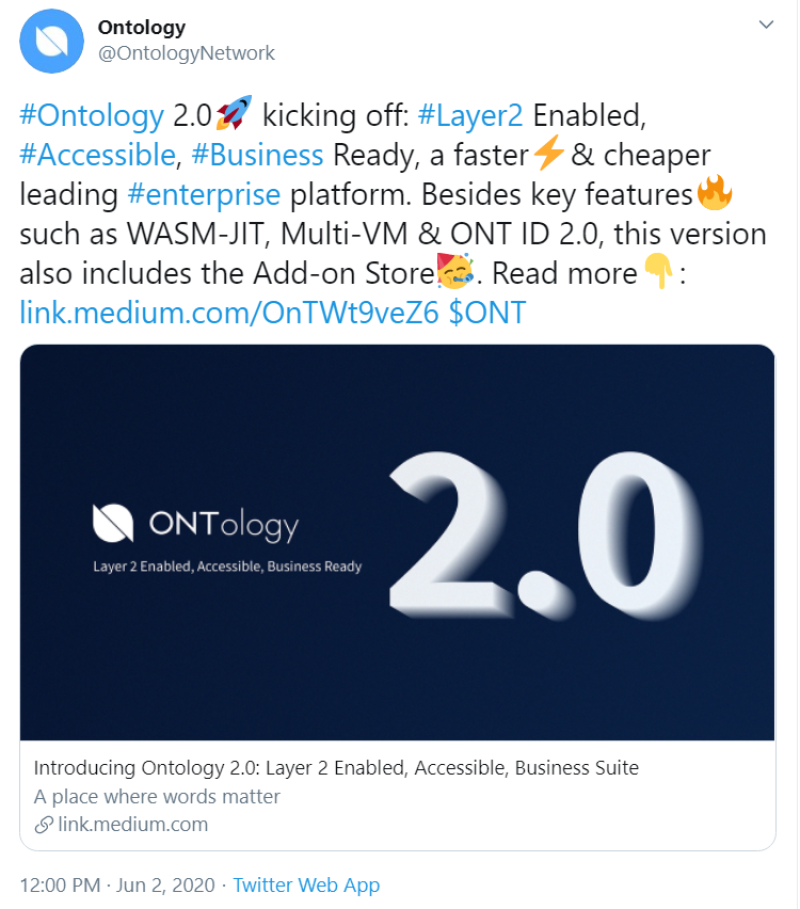 Image source: Twitter OntologyNetwork 
The interests of developers and representatives of companies were taken account of in the creation of Ontology 2.0.
The following features were added in the new update:
Wasm-JIT
Multi-VM
Layer 2
ONT ID 2.0
These components are also included in the Ontology mainnet.
Ontology can even better deal with scalability, performance, compatibility and personal data security issues with these advanced technologies. This version also included the Add-on Store, which is especially useful to developers who are not familiar with blockchain.
What is the purpose of the Ontology blockchain?
Provide comprehensive blockchain solutions for companies and businesses
Develop and implement new ways to use the blockchain
Provide quick and easy-to-use development tool suites
Regain control of your data
What are the updates?
Wasm-JIT is a Wasm process which can convert Wasm bytecode directly into native machine code before the machine code is executed directly. JIT operations can considerably increase execution speed compared with parsing and executing one by one.
Ontology Multi-VM supported multiple virtual machines and effectively integrated a single ecosystem, compared to most public chain projects that only support one specific virtual machinery such as the Ethereum EVM and EOS's Wasm.
The Ontology Layer 2 is now leading the way towards an even faster mainnet as outlined in the Aristotle 2020 Roadmap together with Ontology's cross-Chain, Wasm-JIT, Multi-VM and other state-of-the-art core technologies.
ONT ID is a decentralized identity framework created by the W3C on Ontology, which uses blockchain and cryptographing technologies to decentralize identity specifications. It can define and link individuals, properties and data easily and with significant characteristics such as decentralization, self-checking, protection, safety and accessibility.
Recall that Ontology is a high-performance public blockchain and distributed collaboration platform. In May 2019 Ontology has announced that it has reached a partnership with Shanghai Qingyue, a leading environmental protection NGO in China.