The founder of the Ethereum cryptocurrency does not believe that Bitcoin will grow in price only because of halving. The theory about the growth of Bitcoin due to a decrease in the reward for mining, he described as "unfalsifiable".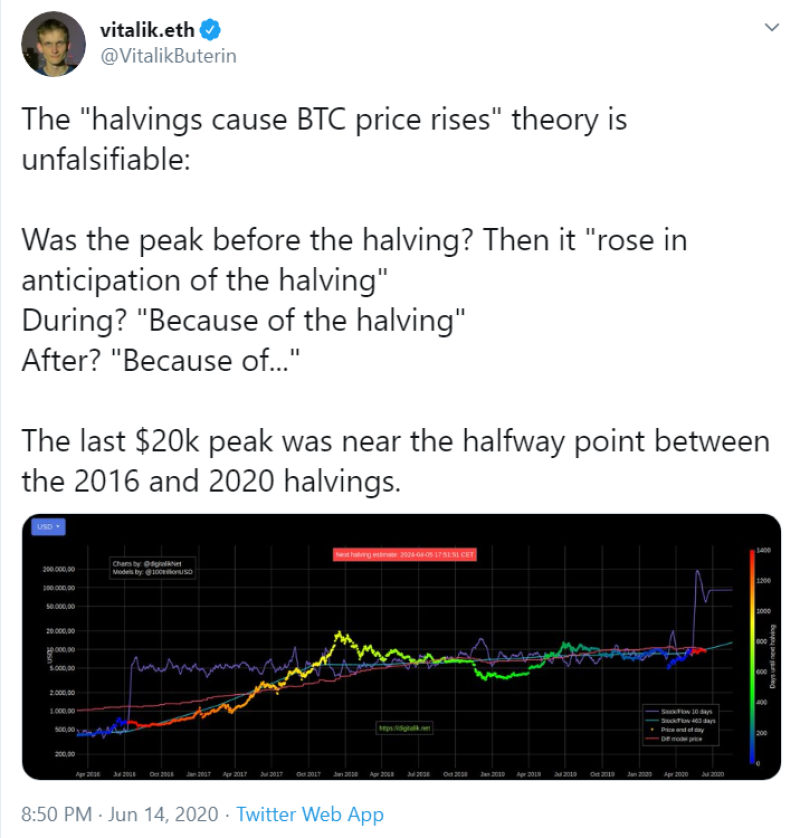 Image source: Twitter @VitalikButerin
Vitalik noted that the previous growth of the asset occurred between the halvings of 2016 and 2020. In his opinion, halving did not significantly affect the price of Bitcoin.
It is generally believed that halving, which occurs every 4 years, has led to a significant price increase. This statement confirms the growth of the BTC price by 1250 percent in 2016-2017 period. Before that, it soared by almost 7,000 percent during the first four-year cycle, which began in November 2012.
These arguments are based on the Stock-to-Flow (S2F) model, which states that the growth of an asset's price is inversely proportional to the increase in the asset's quantity. To put simply, if the amount of an asset is small, its price will be high.
That is why proponents of this theory point to a potential increase in the price of BTC as a result of a decrease in mining reward and a new Bitcoin being on the market.