In recent years, Bitcoin has also been regarded as "new gold," because its value adjusts more strongly than fiat currencies to commodities. It also explains why more buyers are involved in Bitcoin, since market increases are generally do not get affected by inflation during economic and political crises, like traditional currencies do.
According to Tyler Winklevoss, the Chief Executive Officer of Gemini, Bitcoin is more flexible storage of value than gold. In his Twitter account, he posted a comparison table with a description of cryptocurrency and gold.
#Bitcoin is better at being gold than gold — and not just incrementally, but by an order of magnitude or 10X better. Tyler Winklevoss @tylerwinklevoss via Twitter
Bitcoin is a relatively new currency, which makes it unattractive for a section of investors, according to an expert in cryptocurrency. Gold has been around for years, yet a fairly recent phenomenon is blockchain, like Bitcoin. Experts, however, agree that the market is developing and Bitcoin has tremendous reach. Bitcoin may be the next safe haven under the underlying deflationary features.
However, the distinctions between these two items, specifically in terms of their portfolio specifications, must be understood to investors. This gap may be the tipping point in the digital landscape of investments.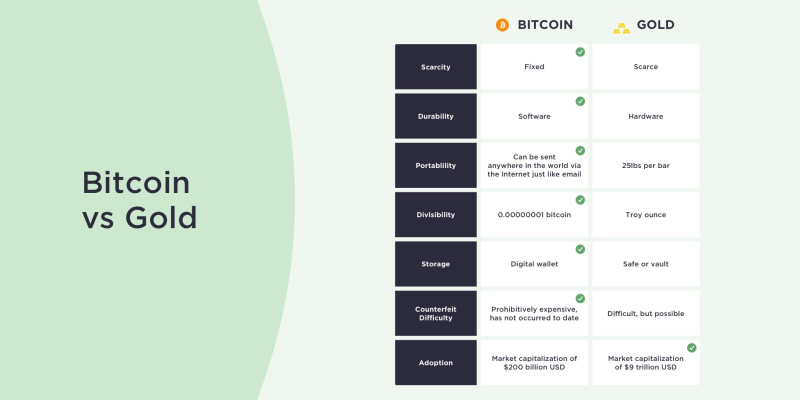 Image source: Twitter @tylerwinklevoss
Although some analysts claim that bitcoin might overtake Gold, others stick to it. They assume that the yellow metal has been embraced all over the world and has a long history.
Another difficulty listed by Gold specialists was that Bitcoin is not universally known, while the qualities of Gold are understood by all cultures throughout the world.
When it comes to deciding when to buy, gold could be literally the tipping point. Given the history of Gold, such as being a ransom for problems or for producing jewels in battle, it seems more appealing, even if it seems worthwhile and costly.