What is exchange token
The exchange token belongs to the platform currency issued by the digital currency exchange, which is the native coin of the platform chain. Holding the exchange token, users can obtain the related rights of the platform to get more income. 
Generally, get the following benefits:
Enjoy discount of trading fees
Participate in Voting
Participate in platform activities and get airdrop rewards
Obtain investor rights, such as repurchase, income dividends, etc.
The exchange token price depends on the value of the currency exchange and its ecological construction. The price rise and fall of the exchange token ultimately depends on the platform's credit, redemption ability, operational ability, anti-risk ability, and community construction ability.
Hottest platform token
On February 8, Tesla announced that it would invest $1.5billion in Bitcoin and said that it will accept Bitcoin as a payment product in the future. This event promoted a substantial increase in the price of Bitcoin. 
However, what everyone did not expect was that the rise of Bitcoin unexpectedly stimulated the rise of platform coins. The platform coins with the largest increase are BNB, HT, and OKB, and their prices have reached a record high. 
At the beginning of 2021, HT and BNB doubled within three months, with an average increase of over 200% per month in 3 months. The three major platform currencies have all ranked among the top 30 currencies, among which BNB has ranked third. Driven by this wave, GateToken' price has successfully risen 1389.48% and is expected to become the next BNB.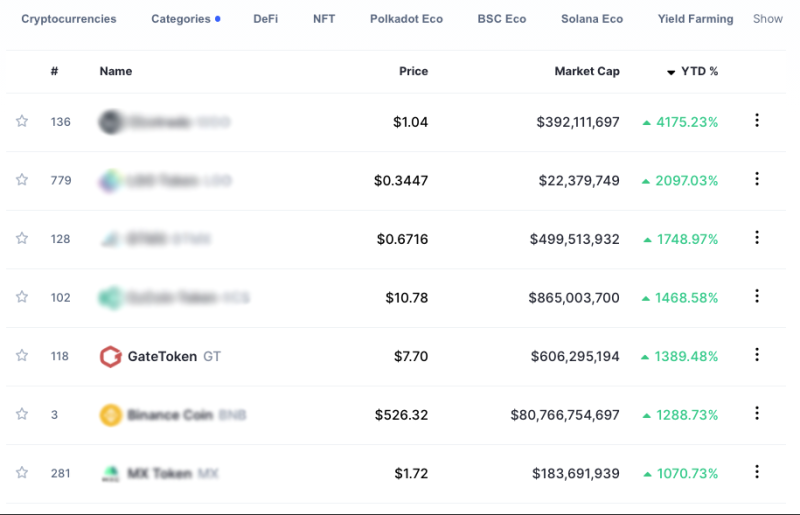 What is GT
GT is the native coin of Gatechain mainnet. It became an exchange token of gate.io formally on March 2, 2020, named "GateToken". Since then, GT has been developing together with gate.io.
In mid-February 2021, Coinbase's pre-IPO valuation reached 77 billion U.S. dollars, and its scale will also exceed that of ICE, the parent company of the New York Stock Exchange. The estimated value of Coinbase's listing has promoted the value of the exchange token to a certain extent, making the exchange token become one of the most valuable currencies in the bull market. As the exchange currency of Gate.io, the price of GT has increased by more than 1500% since February 9th. Its price has risen from 0.66 US to 9 US.
Advantage of gate.io
Multiple functions and diversified trading methods. For example: support leverage,spot contract, C2C over-the-counter transaction, wealth management, etc.
Low threshold. You can trade with a minimum of $16
Large transaction volume, 500+ currencies. The 24-hour spot trading volume topped $1.2 billion. In addition, gate.io supports buying other platform tokens, such as BNB, HT.
High frequency and speed of new currency listings,gate.io is always the first to list coins with potential.
Perfect service system. Users can contact the staff through the official website Chat Room.
Future of gate.io
Gate.io currently uses a series of security protection technologies to ensure account security. Including super-defense SSL links, offline Bitcoin wallets, instant blockchain asset access functions, multiple security verifications, etc. In addition, gate.io offers lower transaction fees and withdrawal fees. At present, gate.io has independent trading business and operation centers in Canada, South Korea, Japan, Hong Kong, and other countries and regions.
Currently, the ecological deployment of GateChain has initially taken shape. In addition, gate.io also has a high-performance trading platform, the best mechanisms, and cross-chain functions. Under the influence of the listing of Coinbase and the bull market, the value of GT in the future is very worth looking forward to. 
In terms of new products, to connect with mature products, gate.io has successively invested in research on Polkadot Parachain, Cosmos-IBC, etc., and cross-chain them with multiple public chains to create a cross-chain ecology with GateChain as the core. gate.io plans to launch two products, Gatemint-SDK and RelayChain. Project parties can use the SDK to develop their public chains quickly, participate in future GateChain parallel chain auctions, and easily realize cross-chain operations with popular public chains such as Polkadot and Cosmos after access.
How to buy GT
Free gift to point purchaser
Buy at spot market
Participate in gate.io activities
Consensus node mining
Delegated PoS mining
How to buy GT on gate.io
Step 1:Account Registration 
Click the Sign-up Button to access the interface of "Sign-up and Login" on Gate.io.
Fill in personal information and check the user agreement.
Create a fund password that is different from a login password.
After Registration, the user will receive an email from gate.io. Click on the confirmation link to finish sign-up.
Step 2:Login & Verification
Verification is not required immediately for trading on gate.io. But users can enjoy faster and smoother Depositing and Withdrawal services with a verified account. The following information is required to complete gate.io verification:
Login gate.io
Fill in actual name and address
Submit valid IDs, such as passport or identity card
Selfie
The verification process may take between half an hour to 24 hours.