Peter Schiff, a CEO of Euro Pacific Capital, and an ardent supporter of gold expressed his concerns about Bitcoin in a tweet. In his opinion, Bitcoin should be growing, but it is not. Peter believes that fundamental factors should push the price up.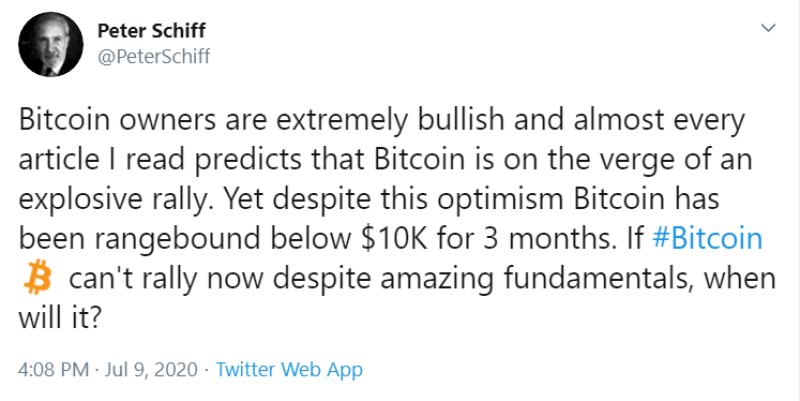 Image source: Twitter @PeterSchiff
But instead, Bitcoin has been in a sideways range for three months. During all this time, the price broke through the $10,000 level only once. Peter Schiff believes that the price should react since Bitcoin has a positive background.
Bitcoin has not illustrated anything interesting in a technical analysis yet. Trading volume is at a relatively average level, which confirms that neither bulls nor bears are currently dominating.
Peter also claims that gold is growing against all world's currencies. And in relation to dollar, the price is at a 9-year price high. At the same time, Bitcoin does not show such growth.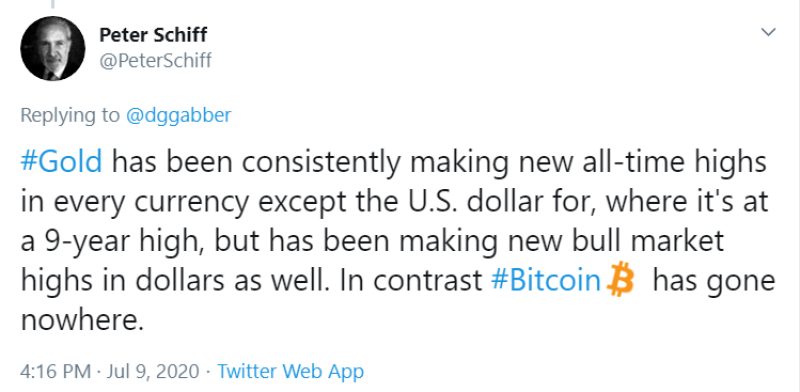 Image source: Twitter @PeterSchiff
Earlier, Peter has already stated that Bitcoin is about to a collapse. He compared the fundamental reasons for asset's growth. He always leans in favor of gold and does not consider Bitcoin to be digital gold.