The start of the bullish trend is continuing. After Ethereum, Bitcoin begins to grow. Therefore, they have started to compare to each other again.
Ben DiFrancesco, a software developer and a crypto enthusiast, believes that Bitcoin and Ethereum should not be compared, they are not rivals and they should not compete against each other, simply because one of them is growing faster than the other. He advises to 'grow the pie', which refers to growing a deposit.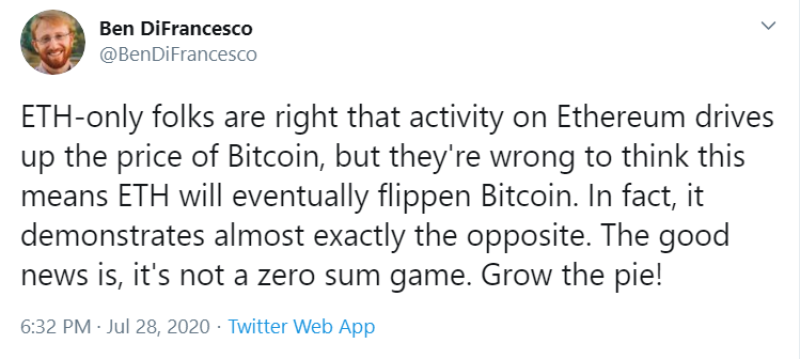 Image source: Twitter @BenDiFrancesco
However, Twitter users did not agree with Ben's statement. They believe that Ethereum outperforms Bitcoin in a unique way. To support their claim, they cite the market for derivatives and other derivative financial instruments on DeFi. As we wrote earlier, the decentralized Finance market is at its peak.

Image source: Twitter @Foobazzler
Today, Bitcoin broke through the a mark of $11,000 and fixed above it. Analysts estimated that the growth could continue to $15,000.
Today's Bitcoin price rose to a level of $11,203.90 in 6 months or +12.73% per a day. It is another indication that the market appetite for the blockchain has recovered and regained its confidence in the long-run, after a year of regulatory turbulence and the falling value of major cryptocurrencies.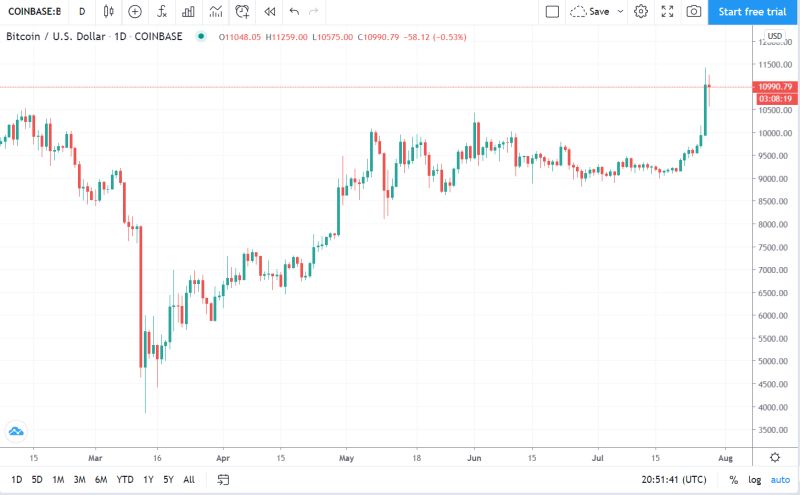 Image source: TradingView BTCUSD
When the coronavirus pandemic spread across the world and policymakers locked people down in March to secure financial funds and other commodities, price of Bitcoin declined dramatically.