Recently, open interest in Ethereum futures has grown to the new historical highs. This growth also helped the price to update the annual maximum of $400.
Now another researcher, Larry Cermak, compared the open interest in Bitcoin and Ethereum within a year and concluded that the growth of interest in Ethereum is growing twice as fast as that in Bitcoin.
Perhaps an even more important chart is the ratio between the open interest of Bitcoin futures and Ethereum futures. Bitcoin's futures OI was 8 times higher than ETH's in February. Only 6 months later, it's now about 4 times higher. OI of ETH grew relatively two times faster than BTC. Larry Cermak, Director of Research at TheBlock
Over the six months when ETH was around $268.56 and BTC was $10,233 they rose by about 45% and 14.6%, respectively. This is because the open interest of ETH futures has grown more than the open interest of BTC futures.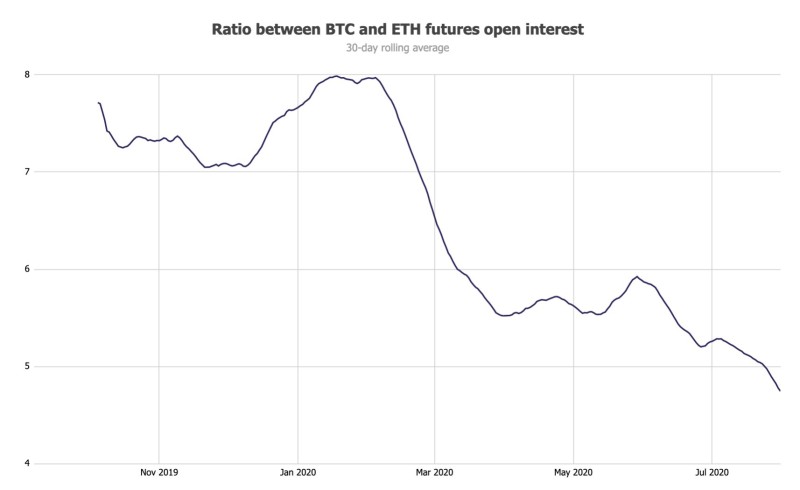 Image source: Twitter @lawmaster
Why is interest in Ethereum growing?
The most anticipated event of this year that affects the price of Ethereum and interest in it is the update of the Ethereum 2.0 network.
ETH 2.0 applies to the long-awaited transition to proof-of-stake (PoS) by Ethereum from a proof-of-work process (PoW). Switching to the staking mechanism would allow other owners to generate an additional return through their network tokens. The original change in the first quarter is now been moved to a date not earlier than the beginning of the next year.