Bitcoin markets are still at the early stages of their development. Once in a while, this would cause a disruption in pricing in a certain region or on a specific exchange. This time it happened to Bitftinex, Larry Cermack of The Block tweeted.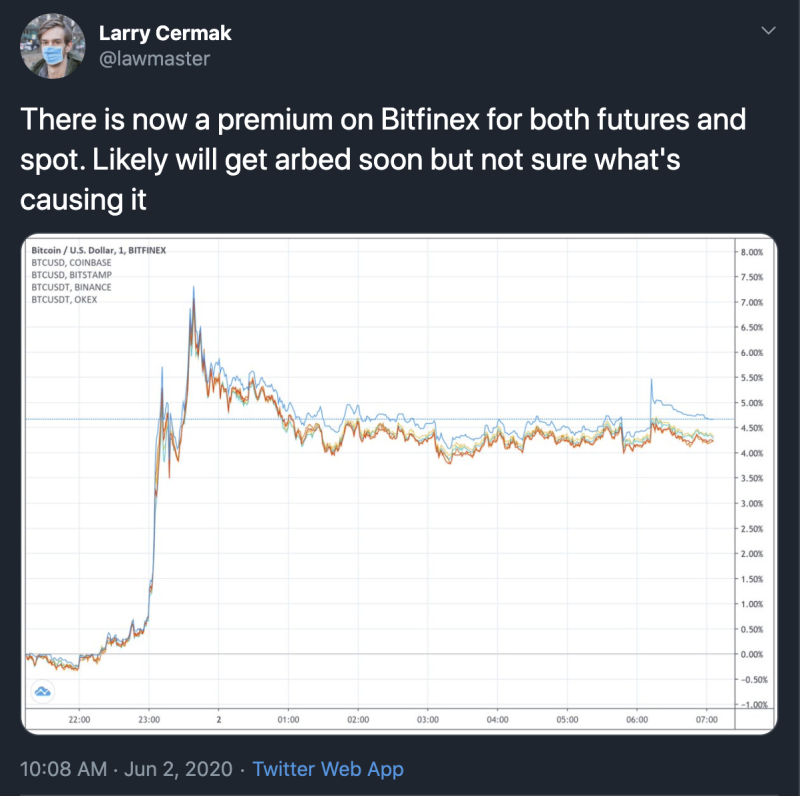 Larry Cermak's Tweet on bitcoin premium.
The premium on bitcoin may be caused by various factors. For instance, the famous 'Kimchi' premium was caused by the isolation of the Korean market. The strong demand in the region pushed BTC higher than in the rest of the world on the local exchanges.
It's not the first time Bitfinex has higher prices for BTC. The exchange experienced similar price action before. Among the major reasons were the debacle around USDT and changes in deposit/withdraw policy on the exchange.
As Larry Cermack stated, he does not understand the nature of the premium yet. One of the possible reasons may be in the recent introduction of USDT to OmniseGo (OMG) network. Still, given that the premium is in USD, there may be other reasons.
Is there an opportunity?
In general, differences in prices across the markets present opportunities for arbitrage traders. This mechanism enables markets to self-regulate. People purchase bitcoins, bring them to exchanges with premium and profit off the difference, bringing BTC price to levels seen on other exchanges.
In some cases, however, arbitraging is not possible. For instance, 'Kimchi' premium couldn't be arbitraged because of Korea's restriction on the capital inflow to the country's crypto exchanges. The earlier premium on Bitfinex was difficult to arbitrage because of the long periods of deposits/withdrawal.
At the time of publication of this piece, the premium on Bitfinex remains. Still, it's not clear whether it can be arbitraged without significant risks.