According to the Glassnode data (@glassnode), the number of addresses having more than 50,000 of BTC remains unchanged despite the fact Bitcoin (BTC) has reached the psychological mark of $11,000.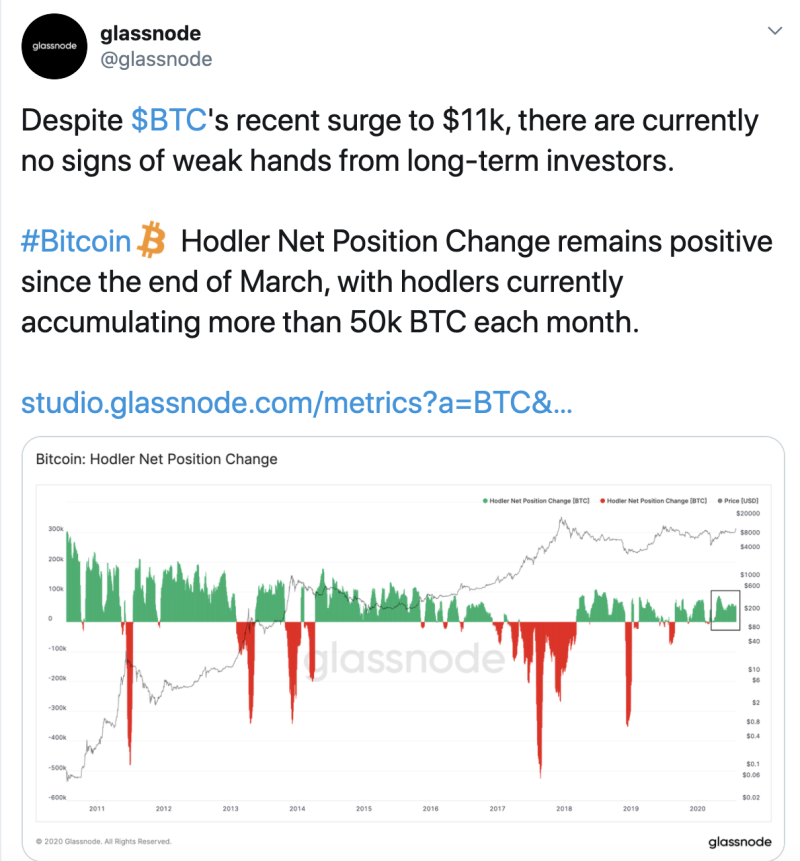 Image source: Twitter @glassnode
It may be a signal that the local peak at $11,000 is not the highest peak to reach and bulls may keep pushing the rate higher. 
After the 'revival' of the cryptocurrency market, it is worth to consider their dynamics to highlight long-term and medium-term trends. Analyzing the daily timeframe of Bitcoin, one can see that the quotes have broken not only the last downward channel of the medium-term correction, but also the resistance line of the long-term order. Updating significant fractal highs allows the market to form a new growth corridor.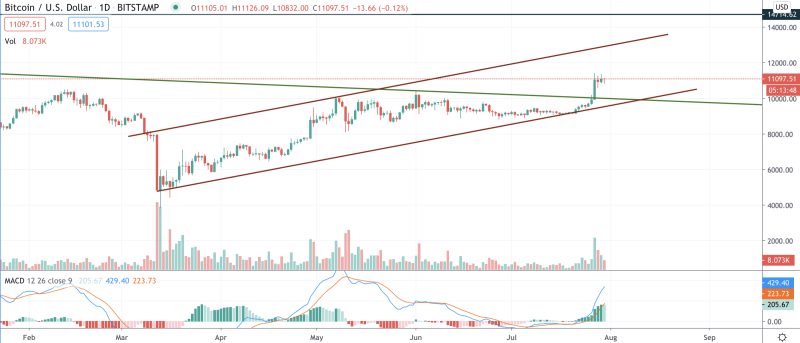 Image source: TradingView BTC
The medium-term target is located at the resistance line near the $13,000 mark. The long-term scale of the movement of quotations outlines the upper boundary and the target for growth at the level of $ 14,700. The level of $ 9,745 can be considered to be a support level. The 'golden cross' on the MACD indicates the potential for further development of the trend. After reaching the target level, a rollback to the support line can be expected.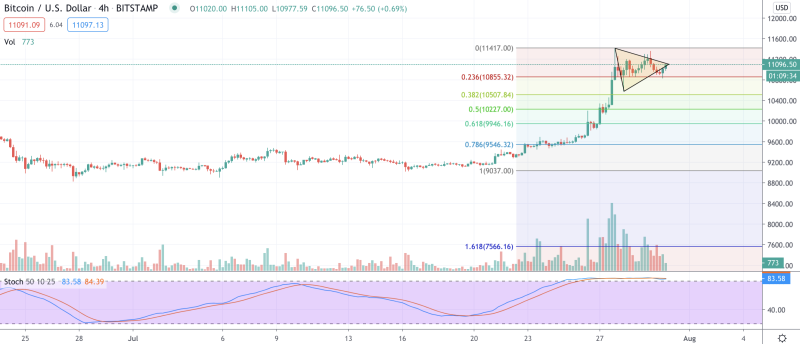 Image source: TradingView BTC
On the 4H chart, one can take a closer look at the development of the last growth wave after the breakdown of the resistance and the appearance of the 'golden cross' on the Stochastic indicator. Currently, the growth impulse has stopped its movement for the correction, which is forming in the current phase of the 'triangle'. If we assess the potential for a corrective decline, then after reaching the level of 23.6% quotes may fall to the Fibonacci levels of 38.2% ($ 10,508) and 50.0% ($ 10,227). The signal for the start and continuation of the correction is the entry of the Stochastic indicator lines into the overbought zone and the following 'black cross'.
Bitcoin is trading at $11,096 at press time.