A CEO of europac.com and a founder of schiffgold.com, Peret Schiff (@PeterSchiff), states that gold fundamentals are still bullish. He asks investors to make no mistakes this time.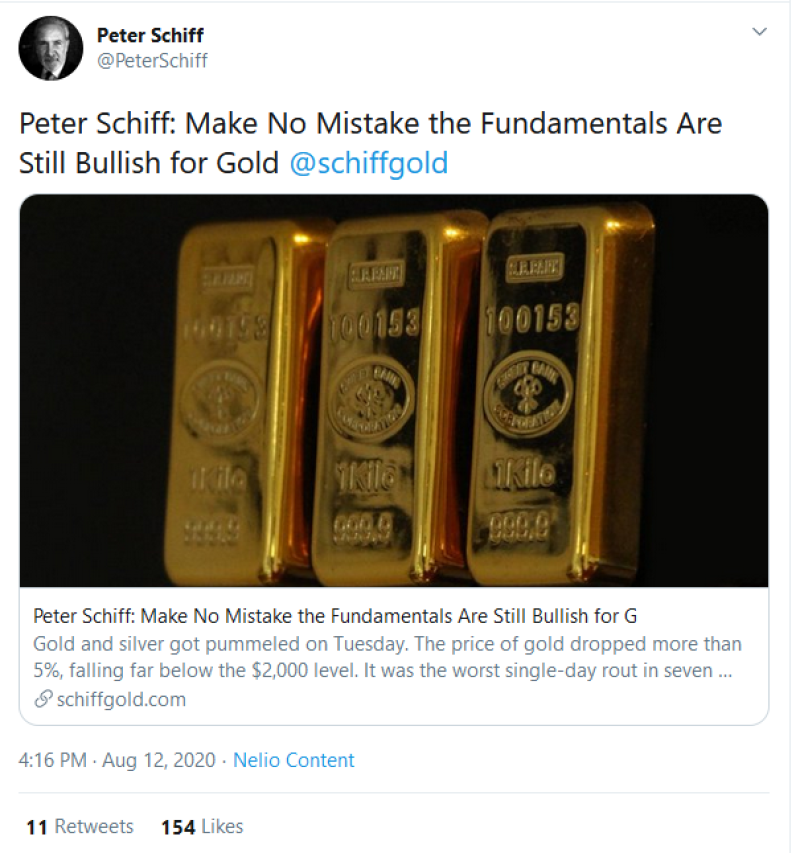 Image Source: Twitter @PeterSchiff
What's Going on with Gold in 2020
Image Source: TradingView XAUUSD
The precious metal has reached its highest level of 2020 at the end of July-beginning of August. The price of gold almost scratched the mark of $2,100, but quickly retreated from there. Gold was in a rush due to weak DXY positions, but the US Dollar restores after a couple of positive releases of the US data. 
We recall that the ADP non-farm employment change was weak and supported Gold (XAU) against USD. However, the official US non-farm employment data was better than expected and allowed the US currency to take a breath. Various risky assets including EUR and Oil plunged along with the Gold.
Gold, COVID-19, and Current Situation
XAU had a successful beginning of the year due to several fundamental factors including the market fall in spring. Gold is known for being a shelter asset. There was no surprise to see it climbing to the new highs. XAU plunged in March of 2020, but resumed its growth and already managed to establish new 2020 highs in April. 
The price of Gold currently depends on the global economic situation and the price of DXY. The FED is strongly dovish, which may have a long-term negative effect on the US Dollar. This will give support to Gold and help the precious metal to develop the uptrend undertaken at the beginning of this year. Peter Schiff thinks that this is not the end of the bullish tendency. Gold is currently having a correction, which may end with a stronger uptrend.