The Rollercoaster of the US Dollar
In 2020, the dollar has been on a roller coaster. The US dollar index DXY rose in February and early March, reaching a height for 3 years, with the COVID-19 pandemic closing down a major portion of the world economy and spurred a world greenback scramble.
As the Federal Reserve and other central banks withdrew, the dollar infused liquidity in the international financial system, reducing the risk. This included the Fed extending existing currency swap lines and creating new central banks.
The dollar then intensified its fall in the summer with the DXY Index, which tests the currency against a basket of six big currencies, which have been plummeted for over two years before restructuring in September.
However, this fall is only the beginning of a bear market, according to Jeroen Blokland. He conducted a study of the currency's behavior and concluded that the US dollar had 3 bull markets and only 2 bear markets. According to his calculations, we are now at the beginning of a bear market.
ICYMI! Since the 1980s there have been only 3 #USD bull markets and 2 bear markets...   jeroen blokland @jsblokland via Twitter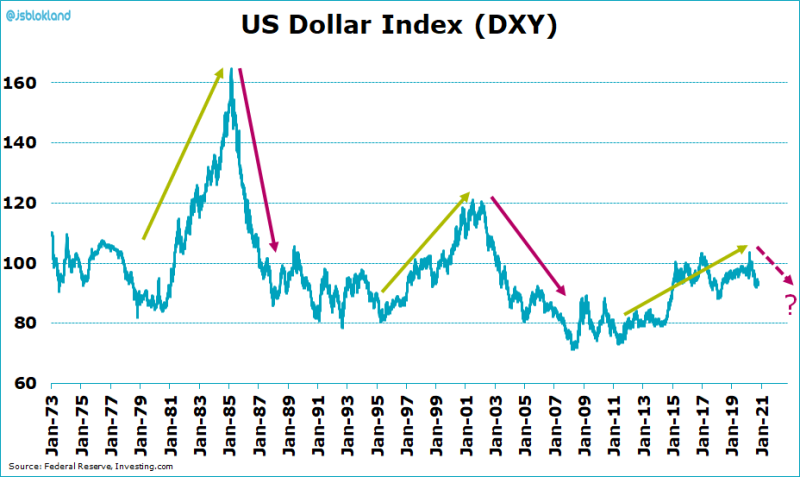 Image source: Twitter @jsblokland
Who Benefits From Dollar Being Weak?
A weaker dollar is generally seen as positive for stocks, particularly for shares of US multinationals that receive a substantial portion of their revenue abroad. However, a lower dollar will benefit nobody if America's economic success against the rest of the world is due to its vulnerability. In the periods of dollar's strength, the stocks have also done well, representing US economic performance.
There is not always such close correlation between the dollar and the stocks. The long-term relationship between dollar fluctuations and the S&P 500 is very pessimistic — the weakening of one commodity appears to be followed by the dominance of the other.