Zoom Grew by 40% in One Day
Stocks of Zoom Company, which provides video calling and online chat services, is up by an incredible 40% today, setting a new all-time high.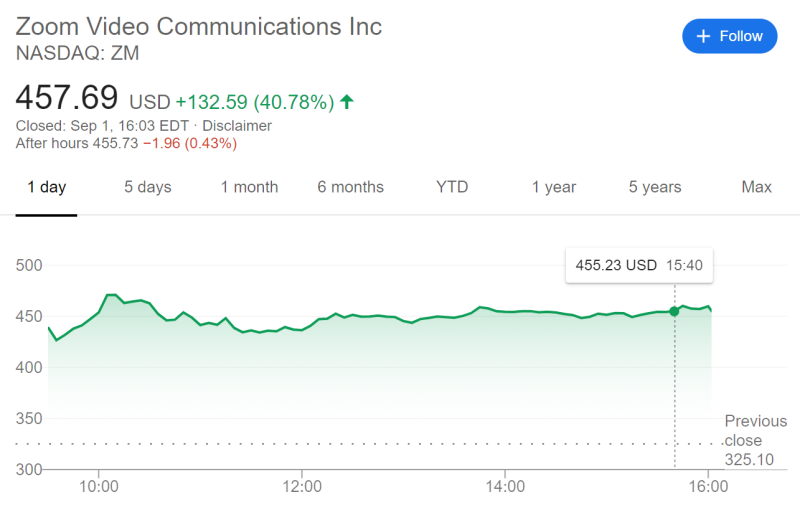 Image Source: Google Finance ZM
The reason for the rapid leap was the financial statements posted today. In the second quarter, the company's revenue was $664 million, more than 350% growth over the same period last year, according to Charlie Bilello, the founder and a CEO of Compound Capital Advisors.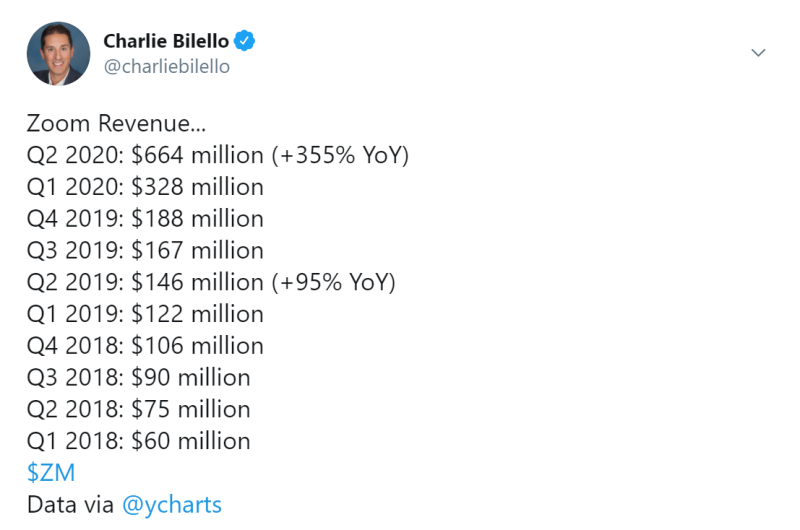 Image Source: Twitter @charliebilello
The profit is $0.92 per share, about a double of what analysts had predicted. Besides, the company's 2021 forecast has been adjusted to $2.3 billion, up from a previous forecast of $1.8 billion.
Zoom's Outstanding Results
The market reacted extremely well to this report, which exceeded all expectations. Previously, Facebook was considered one of the leaders in the speed of reaching a market capitalization of $100 billion. However, Zoom managed to do it much quicker:

Image Source: Twitter @charliebilello
Zoom was founded in April of 2011, which means it took the company less than 10 years to achieve this result. However, it should be noted that it was the events of the beginning of this year that had the greatest impact on the company's value.
Due to the forced isolation and remote work, many more companies have resorted to the services of the company. Thus, in just 8 months the company's capitalization increased more than 6 times.

Image Source: Twitter @charliebilello
With this spike in growth and overwhelmingly positive quarterly results, Zoom can now qualify for inclusion in the S&P 500. Barrons reckons the stock would be in the top 60 if it was to be listed. Previously, the most popular candidate for inclusion in the index was Tesla, which can immediately claim 7th place with its capitalization.