Uber released its second-quarter earnings yesterday at the end of the trading day. The results were worse than expected due to the effects of social isolation.
Uber's Quarterly Results
According to Yahoo Finance, gross bookings totaled $10.2 billion against the expected $10.4 billion. Rides gross bookings brought $3.05 billion to the company versus an expected $3.96 billion. As for еats gross bookings, this activity brought the company $6.96 versus the predicted $6.23 billion.
According to the report, losses per Uber share amounted to $1.02 against the expected $0.84. The company lost a sizable $1.8 billion in the second quarter.
This quarter's results canceled a decade of steady growth in Uber sales, dropping sales by 29% in the second quarter. Losses for the quarter also increased, but on Thursday Uber said it would meet its adjusted profit target by the end of next year.
Delivery Revenue is Record High.
Delivery revenue is now central to the Uber strategy. This figure for the quarter increased by 103%, although it is worth to note that revenue from food delivery was growing even before the pandemic. Another important fact for Uber is that they began to deliver other goods, including groceries, recipes, and packages. Uber now includes UberEats, its food delivery service.
Despite far from decent second-quarter earnings, Uber's chief executive said he sees no sign that Uber has suffered irreversible damage from the pandemic. However, he declined to name a date for the company's full global recovery.
Uber Stocks Price Drops at the After Hours
Yet, according to analysts, Uber will take a long time to recover from the pandemic. For all Uber services to bounce back, cities and businesses must fully open and operate, which is unlikely to happen anytime soon. Markets reacted negatively to the results of the report. Even though shares were up, on the today's premarket quotes fell by more than 2.5%.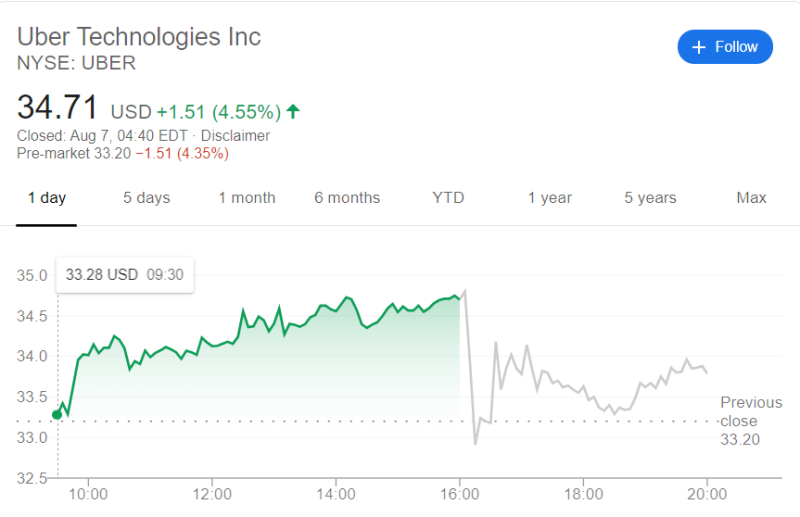 Image Source: Google Finance UBER