Tesla's stocks have shown steady growth throughout the week, their price rose from $1,640 on Friday of last week to over $ 2,000 on Thursday of this week. Thus, the growth was over 20%, which is an absolute record for the company. In addition, the company's shares are up by more than 180% since May and have grown by an incredible 380% since the beginning of the year.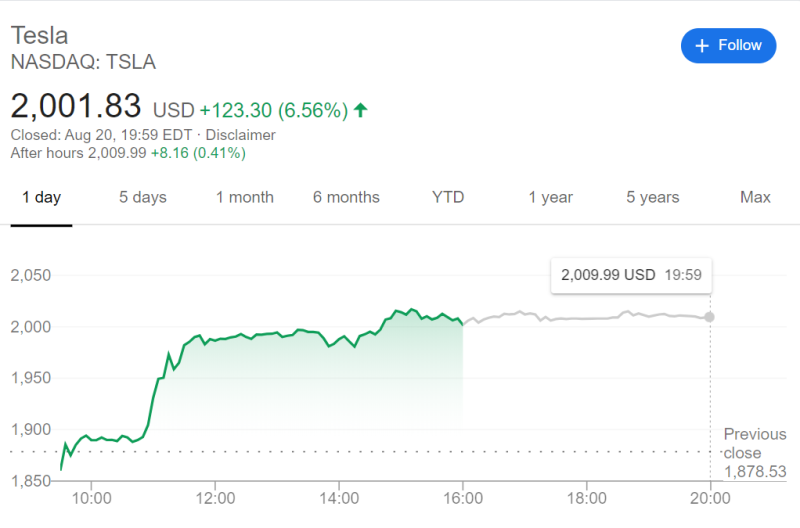 Image Source: Google Finance TSLA
It is worth to note that the current spike in growth is mainly due to the announcement of the 5-to-1 stock split, which was made on August 11. From that moment on, the stock price steadily went up, setting new all-time highs, literally, every day. The growth since August 11 is 46%.
At the same time, Gary Black, a former CEO of Aegon Asset Management, believes that despite the significant increase in the price, investors will continue to show interest in Tesla's shares until the long-awaited split, which will take effect on August 31.
Even though $TSLA and $AAPL have had big runs since announcing their splits, I believe investors will bid them both up again starting Thursday or Friday of next week in front of the Monday 8/31 AM effective splits. Gary Black via Twitter @garyblack00
Nonetheless, Charlie Bilello, a founder and a CEO of Compound Capital Advisors, recalls that the company's shares are now worth more than a thousand times the company's earnings, which is by far the largest among tech giants, with a huge lead over the second-listed company, Amazon.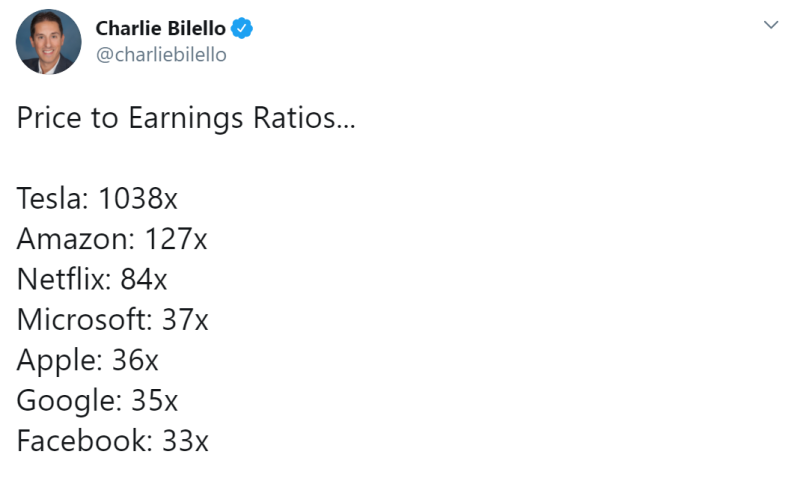 Image Source: Twitter @charliebilello
Of course, this does not mean that the shares are guaranteed not to continue their growth, however, such a large P/E ratio, obviously, indicates a significant gap between the company's share price and fundamental factors.