Robinhood traders continue buying stocks even those that are at their historical peaks. The most popular assets over the last week were Tesla (TSLA), Moderna (MRNA), and Rigel Pharmaceuticals (RIGL).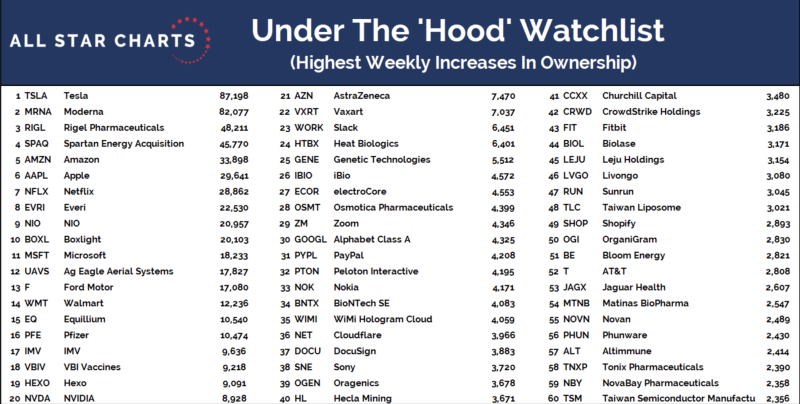 Image source: allstarcharts 
The technological giants, such as Apple (AAPL), Microsoft (MSFT), and the online retailer Amazon (AMZN) are in the top 10.
Tesla (TSLA)
Even though Tesla (TSLA) takes the first place among the most popular stocks among Robinhood traders, it has shown significant price change after it peaked at almost $1,800 on July 13th.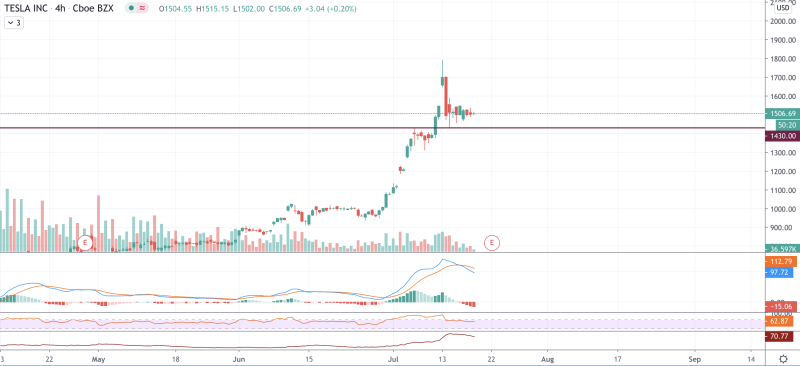 Image source: TradingView TSLA
On the 4H time frame, the volatility as well as the trading volume have reduced. It means that the stock is unlikely to change from the current position it's taking. Thus, the lines of the MACD indicator has already located in the bearish zone confirming the sellers' pressure. All in all, the TSLA share may face another decline to the 'mirror' degree at $1,430 shortly.
TSLA is trading at $1,505 at press time.
Moderna (MRNA)
Moderna (MRNA) has risen mainly due to the news about the positive testing of a the coronavirus vaccine.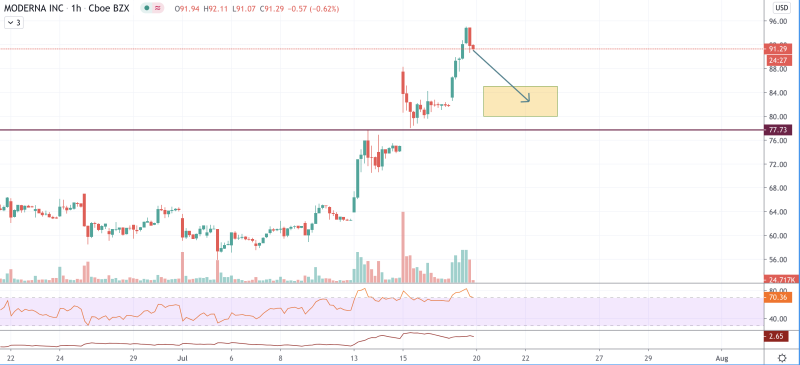 Image source: TradingView MRNA
Although the stock has slightly gone down after reaching a peak of $95, the correction might not have finished yet. The RSI indicator is still overbought and the trading volume is also declining. At the moment, there is no buyers' pressure and bears may push back the share deeper into the yellow range ($80-$85). This projection is relevant until the end of July 2020.
Rigel Pharmaceuticals (RIGL)
Rigel Pharmaceuticals (RIGL) is another company of the medical sector that has experienced a significant price change. The growth has made up 175% over the last 2 days.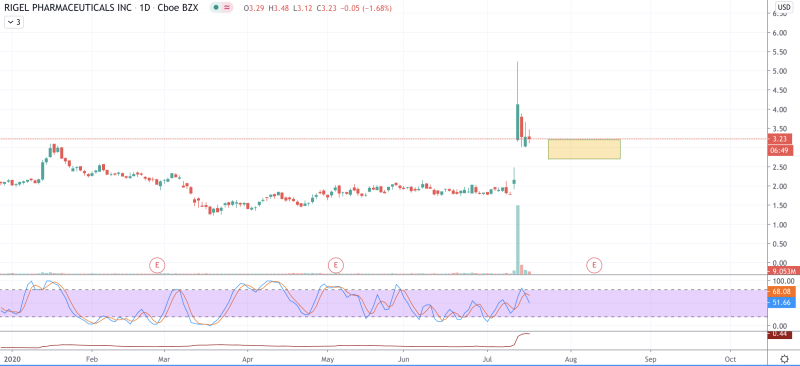 Image source: TradingView RIGEL
On the daily chart, RIGEL could not hold the price of $4. Also, the trading volume has decreased, which confirms the absence of bulls on the market. Thus, the Stochastic RSI indicator is going down, suggesting the ongoing drop. Summing up, the asset may be found in the range of $2.70-$3.20 within the next few days.
RIGL is trading at $3.23 at press time.