Tesla shares, which have been under significant pressure over the past week and have not shown significant results after an incredible rally seem to be back in the game.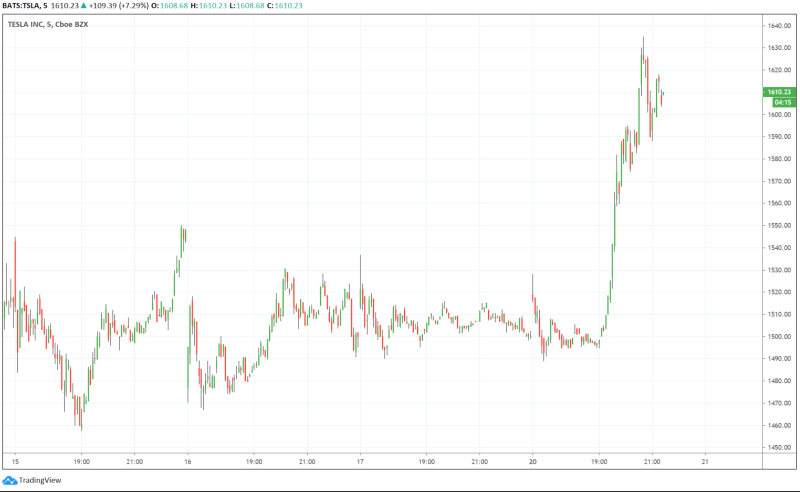 Image Source: TradingView TSLA
In a few hours since the start of the trading session, the company's stocks have broken through the resistance at the psychologically important level of $1,500 and rallied by an incredible 7.5% and, possibly, will continue their ascent.
Despite these amazing results, Lawrence McDonald, a former head of Macro Strategy Soc Gen, believes that there is no reason to grow.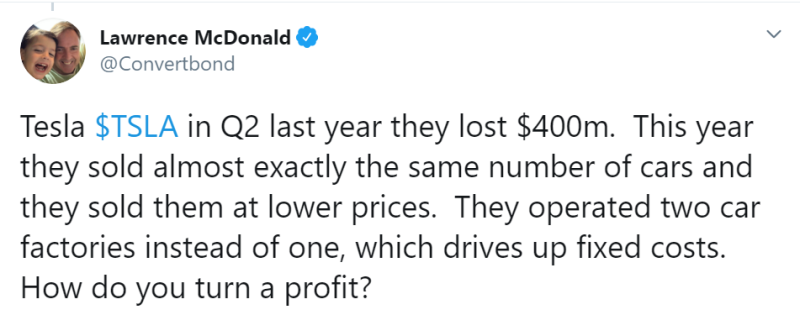 Image Source: Twitter @Convertbond
He recalls that Tesla lost more than $400 million in the second quarter of 2019. Now, according to his reasoning, sales of Tesla's electric vehicles are at about the same level. At the same time, they were sold at a reduced price, and instead of one factory, they operated two at once. Therefore, this quarter's fixed cost should be even higher than last year's. This means that Elon Musk will have nothing to surprise investors with this year and the quarter will again be unprofitable.
Mr. McDonald is not the only one who suspects that Tesla's stock is growing unreasonably. More recently, Michael A. Gayed also argued that Tesla, whose capitalization surpassed the Nasdaq and the S&P 500 indices by more than 25 times in a year, is the largest bubble that will soon see a correction if Robinhood users do not intervene.