Even though the stocks market is not as bullish as it was in April and May, the assets are not going to fall. The current situation might be considered to be in a sideways trading. The rise of the companies is reflected by the index. Mainly, NASDAQ 100 has hit a new all-time high, peaked at 11,000 points.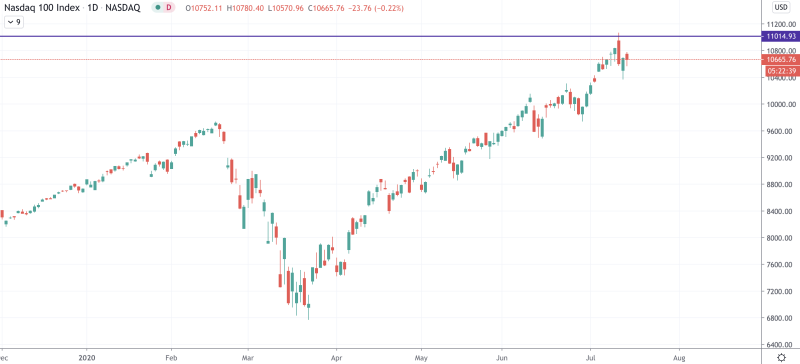 Image source: TradingView NASDAQ 100
However, businesses with small capitalization are also keeping up with such giants as Amazon (AMZN) or Tesla (TSLA). They are represented by the Russell 2000 index. Since its introduction, Russell 2000 has become the main criterion for evaluating small-cap stocks and has been the focus of attention for fund managers in the United States. Key sectors tracked by the Russell 2000 Index include financial operations, healthcare, technology, consumer goods, and material handling.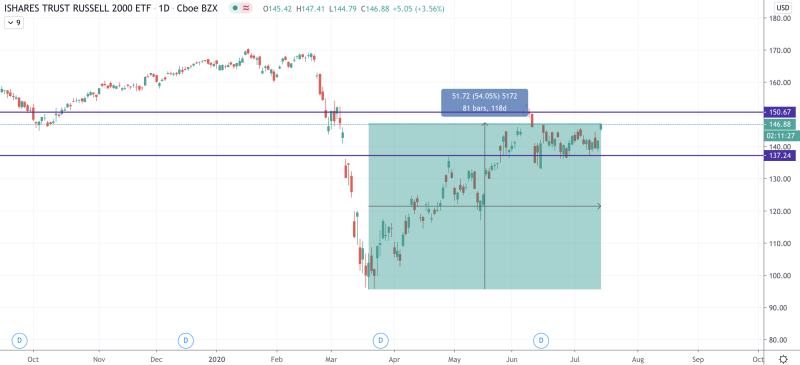 Image source: TradingView Russell 2000
Russell 2000 could not hit a new peak as NASDAQ 100, however, it has almost got out of the pit it dug for itself in March of 2020. The growth has made up 54% in more than 100 days. Since the beginning of June, the index is trading in the narrow range between $140 and $150. At the moment, neither buyers nor sellers are dominating the market. Consequently, the more likely price option is the continued sideways trading in the aforementioned frame.
Russell 2000 is trading at $146.88 at press time.