Significant Level Breakthrough
NIO soared above $25 on Wednesday to benefit nearly 22.57 percent in an interesting session in exchange. The stock has set a new record up to $29.23. NIO expanded by over 600 percent during 2020.
China published its monthly electric vehicle sales reports and the figures increased in a row in September for the third month. Sales increased by 67.7% last month as 138,000 NEVs were sold or new energy vehicles, a small portion of the total 2.57 million vehicles sold in China last month.
Interestingly, Tesla, the market's pioneer, experienced a four percent drop in revenue from August, signalling that local government's stimulus is moving labels home.
Chinese car buyers are massively introducing these new electric vehicles. As EV car prices reach "parity" with the cost of petrol cars (roughly around 2022 or 2023), the initial wave of EV purchases by businesses will be supplemented by consumers who will buy electrical equipment as their personal vehicles-maintaining the sales momentum for years to come.
The Advice from the Expert
NIO's stock is getting increasingly attractive for various specialists and stock market's experts. Today, trust fund manager, Jim Cramer, said the company's shares are ready to shoot up.
look i totally get this stuff. i see that NIO is looking up on the push this a.m. but as soon as i say something good i will be told that i am late. and if it goes down then i when hear thanks for nothing. so there's no point anymore here. Jim Cramer @jimcramer via Twitter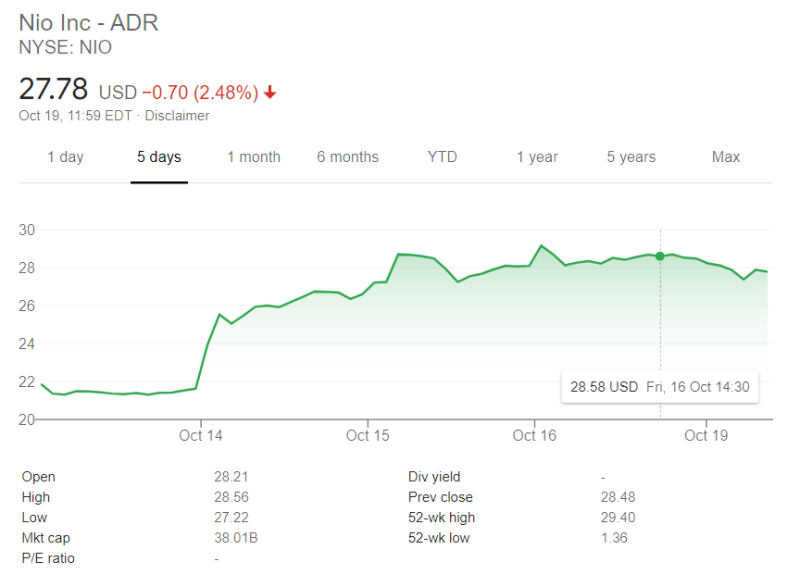 Image source: Google Finance NIO
However, here we are talking about the fact that Nio has earned the title of "Chinese Tesla". On November 10, the company is going to announce its third-quarter earnings-and many people are looking for Nio to do the same as the Tesla challenge-with stock prices soaring without a profit.