The Winter Is Coming, the Number of Netflix Users Will Be Growing
Barry Schwartz, a partner and a Chief Investment Officer at Baskin Financial, notes how Netflix is ​​benefiting from the increase in the number of people spending time at home watching TV due to the pandemic.

Image Source: Twitter @BarrySchwartzBW
In addition, he notes that winter is coming, and it will bring with it even more people who will want to spend their time watching TV series. To a certain extent, this is also due to the possible onset of a second wave of the coronavirus, which could lead to a second round of lockdown.
Moreover, Rich Greenfield, a partner at LightShed and a financial analyst, discusses how important Netflix has become to consumers. He points out that the company is more popular than its free competitors, referring to YouTube and Prime Video, and that its products are watched by more users around the world.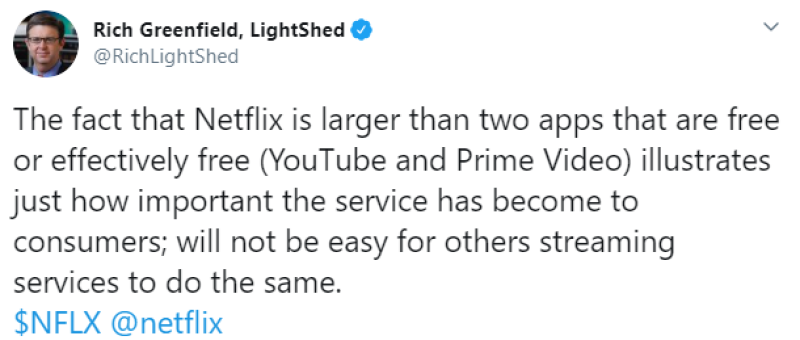 Image Source: Twitter @RichLightShed
The One that Benefitted the Most
At the end of the three quarters of 2020, Netflix was one of those companies that benefitted the most from the pandemic, according to the Motley Fool.
Experts note how beneficial the forced isolation has affected the brand loyalty of Netflix.
"Already a strong intimate brand prior to, consumers use the brand more during the pandemic. With increased time at home and a need to escape, streaming entertainment brands become a desired distraction. Fifty-six percent of customers said they use the brand daily." Mario Natarelli, the managing partner at MBLM
Users' loyalty resulted in the company's successful financial performance: revenue grew by 25% year over year while EPS grew by more than 165% in the second quarter.
Netflix Tries to Overcome the Correction Gap
At the moment, although the gap caused by the September correction has not yet closed, Netflix shares are on the rise ahead of the third quarter report, which will be published on October 19. Just today, the company's shares are up by more than 4.5%, outperforming the market.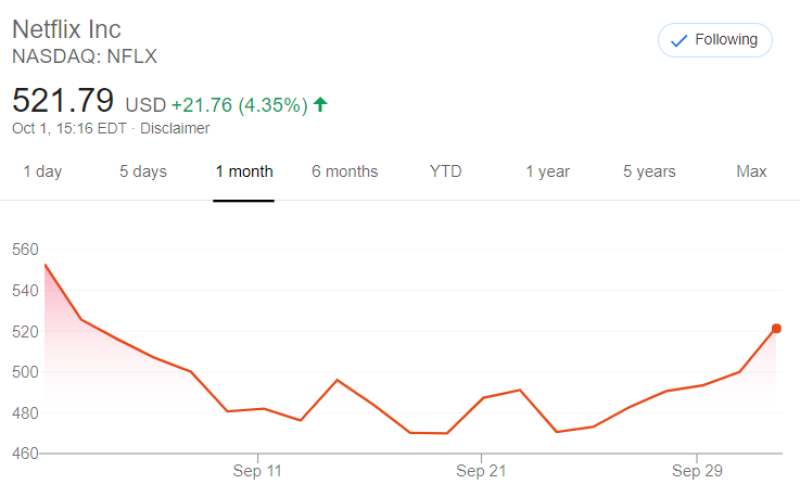 Image Source: Google Finance NFLX