Positive Background
The third-quarter profits of Netflix (NFLX) will be posted next Tuesday (October 20, AMC), and the streaming manager's latest viewer figures are predicted to decrease from last year's equivalent period. According to the figures, Netflix's latest subs in 3Q20 are 2.5 million, which is 63% below 3Q19.
Netflix Shares Inc. Shares. NFLX, +1.25% higher at $554.09 on Wednesday, which proved good for the financial market at the end of the year. Thus, the company's shares continue to grow and have a positive background before the upcoming publication of earnings.
Regal Cinemas parent Cineworld announced Monday that all 663 of its the United Kingdom and the United States would be temporarily closed. Theatres with a disappointing blockbuster lineup that they claimed were not adequate to draw moviegoers. Clearly, this message will push the company's shares higher, as people will watch more movies and TV series online.
However, Netflix's management expects Q3 to develop somewhat more slowly after two good quarters, which were supported by customers who spent more time in front of the TV. In total, management signed 2.5 million new users during this period. The management says it is already on target for a 16 percent operating profit in the second quarter of Netflix update. Furthermore, the company said that its 2021 operating margin was forecast to be 21%.
Direct Comparison with the Market Leader
The phenomenal growth of company's shares does not escape attention of the analysts. When the stock grows in price, and especially if the growth is as such, you can't help but draw parallels and ask questions, where can this growth lead?
This is the question that analyst J. C. Parets answered on Twitter when comparing the shares of Netflix and another Internet giant, Amazon. According to his estimates, Netflix is following the price set-up of Amazon's shares. Based on this setup, Netflix's share price should rise another 20% to $653.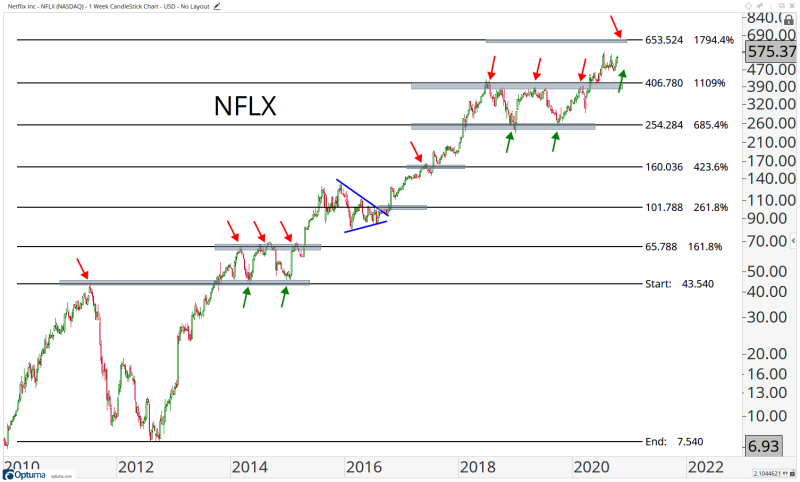 Image source: Twitter @allstarcharts