Two weeks ago, McDonald's second-quarter financial results fell short of earnings' expectations. Although the company has a well-developed ready-to-eat food delivery capability, the impact of the pandemic's closure of fast food outlets has been severe for the company.
Internal Scandal in McDonald's
The company has not yet recovered from the consequences of the crisis, but their stores have already begun to open all over the world, but with some restrictions. Now the company has a different problem, as it is involved in an internal corporate scandal.
McDonald's management stated said it will file a lawsuit against its former CEO, Stephen Easterbrook. Mr. Easterbrook was found to have inappropriate business etiquette with company's employees. Moreover, information was revealed that some time ago he gave his consent to profitable payments on the company's shares to employees with whom he had close relationships in all plans. This is about $ 40 million in benefits.
Since 2015, when Stephen Easterbrook took over McDonald's, the company's stock has more than doubled by the end of 2019. During this period Easterbrook was removed from the company because his close relationships with employees were made public.
MCD Stocks are Growing Despite the Lawsuit
Although such scandals usually negatively affect the company's image and investor sentiment, it does not seem to be the case here. The company's shares in the course of trading rose by 1.5%. Apparently, the market believes in the quick recovery of the fast food giant.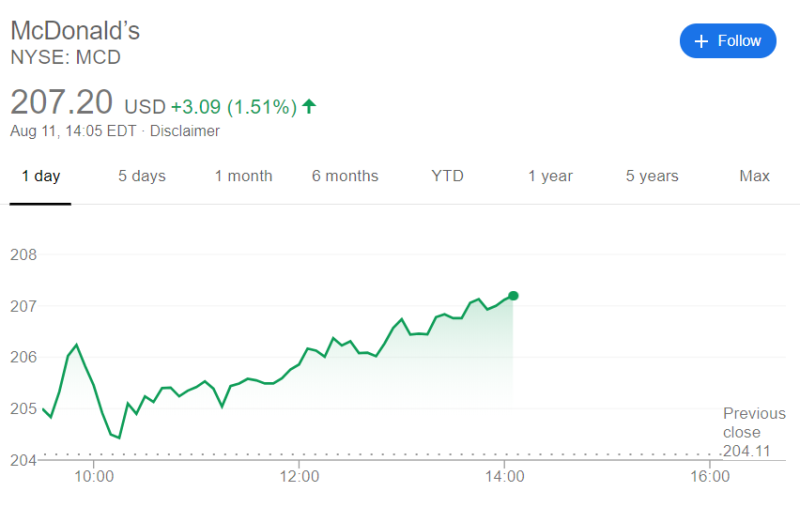 Image Source: Google Finance MCD