According to CNN, Google (GOOGL) will allocate $10 billion to the development of the digital economy of India. Funds will come to the country through partnerships, investments in securities of local companies, in operating expenses, financing the country's infrastructure and ecosystem.
Investments will be focused on four areas:
Ensuring free access to information for each resident of the country in his native language.
Creating new products and services for the "unique needs" of India.
Business empowerment as it digitally transforms.
The use of technology and artificial intelligence in areas such as health, education and agriculture.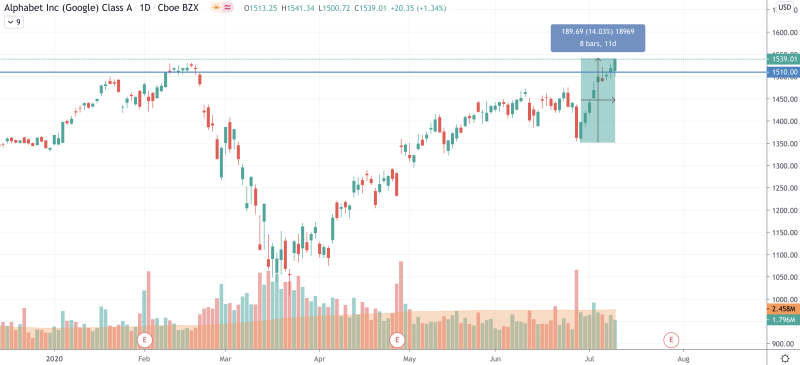 Image source: TradingView GOOGL
Analyzing the daily chart, Google (GOOGL) has just hit the all-time high at $1,540. To keep rising, the asset needs more' fuel'. In this case, the more likely price forecast is a retest of the $1,510 mark, followed by the continued growth. The high level of trading volume confirms the ongoing bullish pressure. That is why the possible decline might be considered to be a correction, and not the start of a bearish wave.
GOOGL is trading at $1,539 at press time.