Elon Musk plans to discuss the splitting of stock in the next gathering of Telsa 's shareholders. Until now, Tesla has not split up its shares since its IPO was launched ten years ago.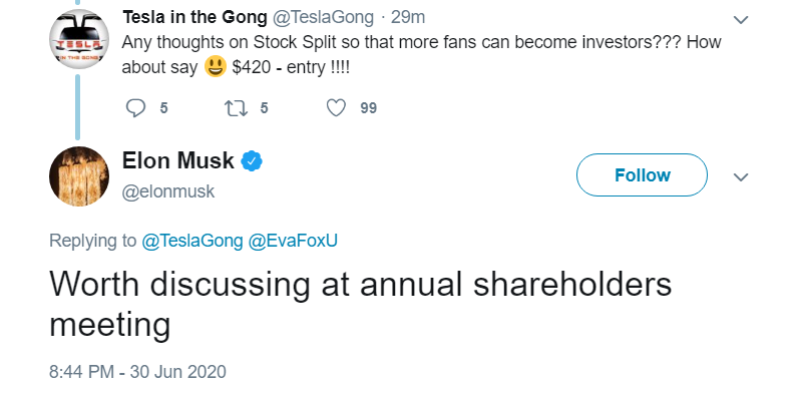 Image source: Twitter @ElonMusk
New retail investors will be attracted by a share split for TSLA which will benefit the company in the long run. The Teslas stock achieved new high rates on Tuesday and crossed $1,000 mark per stock and reached an all-time high of $1,087 per stock. TSLA's share price close to the market was $1,079. 81 with a $200 billion market capitalization. By market capitalization, the firm is the world's most valuable automaker.
The shareholders' meeting was scheduled In July of this year, but Musk announce that it would be moved to 15 September, to the day of the release of new battery. TSLA's shareholders will certainly have plenty to talk about in September, provided it is equally divided between conversation and announcements about the battery day.
A year ago or so, a TSLA's shareholder, Gali Russell, spoke about the split of Tesla's shares. A full video on this topic has been posted to HyperChange. It addressed two kinds of stock division and why TSLA would take consider those options.