Tech stocks have always took a strong position in the index, but this imbalance has reached unprecedented proportions in 2020.
According to Jeroen Blokland, the head of the Robeco multi-asset fund, only four technology companies now account for 42% of the Nasdaq 100's capitalization. These companies are mastodons such as Apple, Amazon, Microsoft and Alphabet, the parent company of Google.
#Apple, #Microsoft, #Amazon and #Alphabet (#Google) make up 42% of the #NASDAQ 100 Index! Jeroen Blokland via Twitter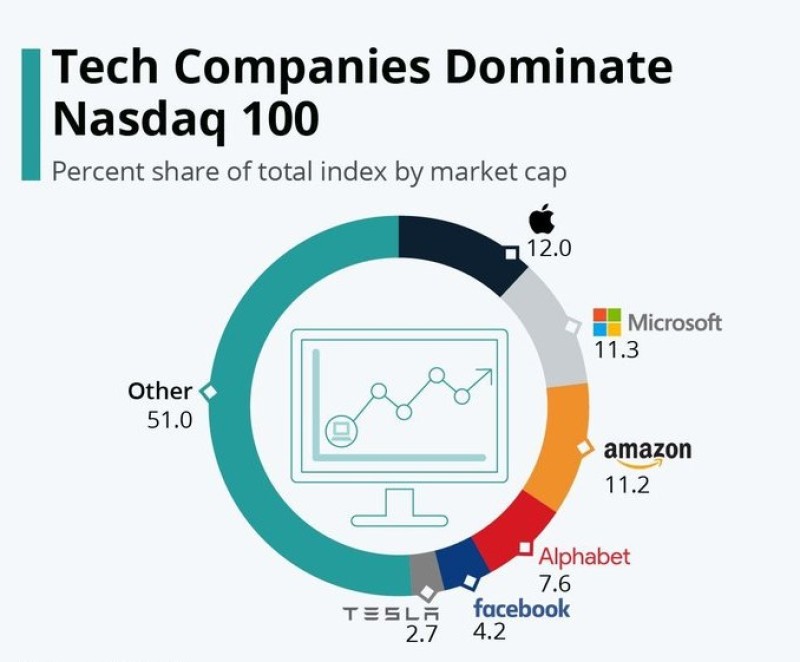 Image Source: Twitter @jsblokland
50% of the Index Capitalization for 6 Companies? Easy
Other companies worth mentioning are Facebook and Tesla. However, they total only to 6% of the index capitalization, which is less than any of the four giants. However, in total, all 6 companies make up 49% of the Nasdaq 100's capitalization, the same as the other 94 companies represented in the index.
The correction dealt serious blows to the capitalizations of the giants. Thus, Amazon lost about 10% from the highs of early September. Apple and Alphabet both declined more, shedding 15% of all-time highs. Microsoft shares were the most resilient, falling "only" by 9%.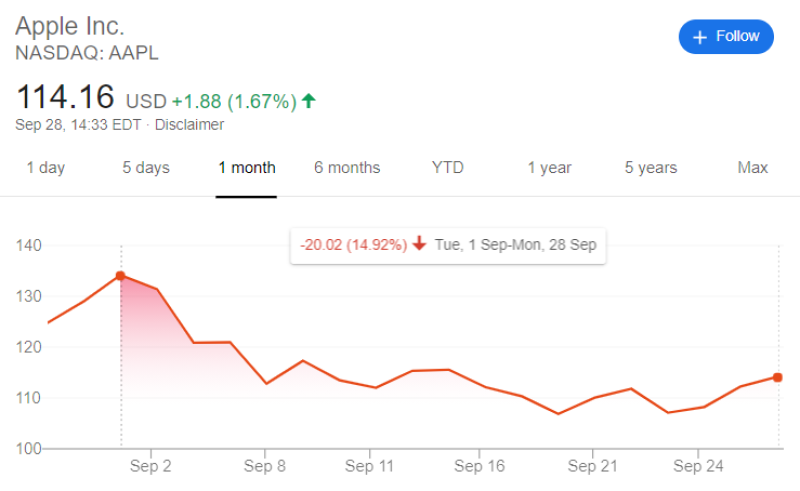 Image Source: Google Finance AAPL
Recent History of Mighty Techs
Let us recall that at the end of August, when there was a split of Tesla and Apple shares , their shares, with the support of Amazon, the Nasdaq 100 managed to raise by 1%. It's even more remarkable that the other 97 companies were on the contrary falling at this time, but this could not prevent the pressure of the three tech giants.
Despite the ongoing correction, which turned out to be the most rapid in recent years, historical data shows that this can lead to large gains, as almost all fast corrections led to a rapid increase over the next 6 months, according to the historical data.