Yesterday was the worst day for major indices in the past few months. The largest tech companies, collectively named as FANGMAN, lost $ 500 billion in just one day, an amount that equals to Sweden's GDP.
This Is not a Bear Market or a Correction yet
The stocks of the largest companies were falling, however, Jeroen Blokland, the head of multi asset fund, Robeco, believes that it is too early to talk about the beginning of a bear market:
"Has a new bear market just begun? In the absence of a clear catalyst, it seems somewhat premature to call the next market downturn." Jeroen Blokland via Twitter
In his analytical article, he notes that despite the fall of Nasdaq by almost 5%, there is still no catalyst that would lead to the beginning of a bearish trend, or at least to a serious correction.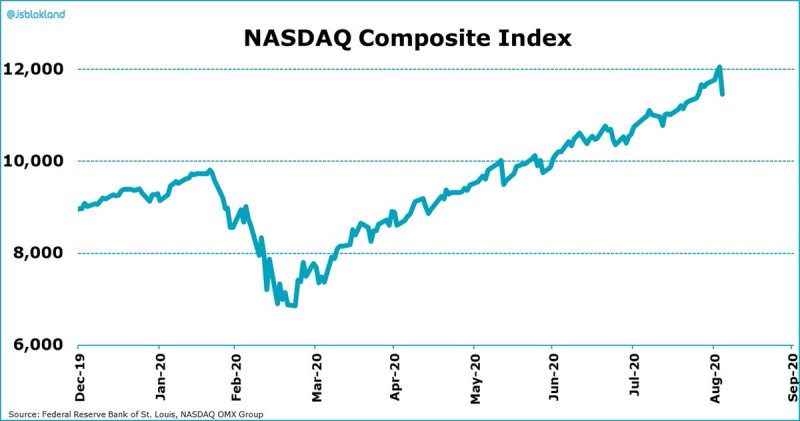 Image Source: Twitter @jsblokland
Mr. Blokland states that monetary and fiscal stimulus continues to positively impact the economy, and unemployment data were better than predicted this week, so there is no reason for a more serious structural downturn.
'Easy Come, Easy Go' Nature of Stocks' Growth Raises Concerns about Fundamentals
Lisa Abramowicz, a reporter at Bloomberg, when speaking about the largest technology companies and their Wednesday's fall, notes that one day of decline doe neither mean a trend reversal nor even give serious reasons to worry, since this behavior is natural for the markets.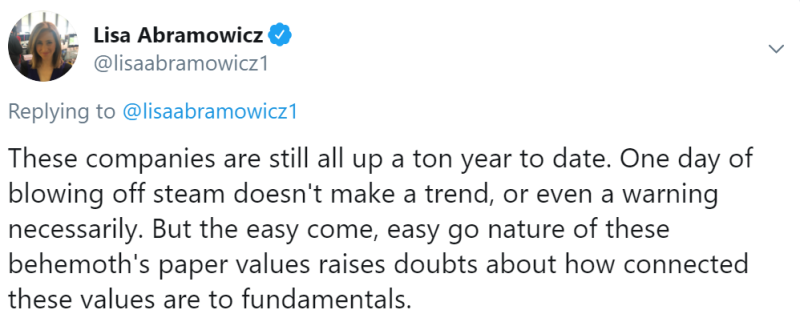 Image Source: Twitter @lisaabramowicz1
However, she notes that the ease and speed with which stocks have rallied over the past several weeks could turn into a similarly precipitous fall, as the rapid growth raises questions about how far the stock's quotes have pulled away from the fundamental financial indicators of companies.