Drago Anguelov, the chief scientist of Waymo, described the ViDAR, a camera and a structure with a focus on scene geometry, semantics and dynamics. Raquel Urtasun, the head of research at Uber's advanced technology group, showed a pair of technologies using communication between navigation vehicles, traffic modeling and more.
ViDAR
ViDAR, a Waymo-Google Brain collaboration with a Google AI laboratory, infers movement-related structure. It discovers 3D imagery from photographs via the use of phase parallax, the change in the flow.
Frames were taken by car-mountable cameras. ViDAR will forecast possible camera perspectives and depth data in the light of a pair of images and lidar data.
At Waymo, the ViDAR is used internally to provide advanced camera-centered depth, recognition of camera movement wherein a scene and dynamically changing models.
It led to the creation, among other developments, of a model which measures the depth of camera images and predicts the obstacles in the direction (including pedestrians).
V2VNet
Uber's Advanced Technology Group Researchers (ATG) have developed an independent vehicle V2VNet system. It enables cars to communicate information efficiently over the air.
V2VNet allows cars to exchange messages within the network that contain data sets, time stamps and information about location, compensates for delays by an AI model. It intelligently selects only the relevant data from data sets (e.g. lidar sensor readings).
A few tests showed that V2VNet's error rate was 68 percent lower than in single cars. With the rise in the number of cars on the network, efficiency has improved and 'major' improvements have been made to remote artifacts and closed cars driving at high speed.
The publication of this system did not affect the share price. At the premarket on Monday, Uber's share price is in a sideways range. It remains to be seen when the company will start testing on real cars.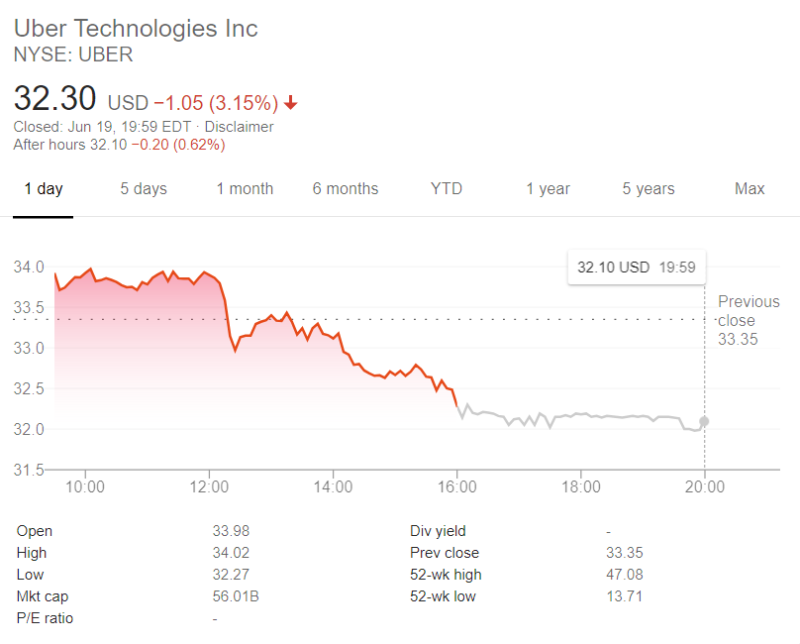 Image source: Google Finance