Tesla stock price has added 5% after the company's Q2 profit report. Gary Booysen (@GaryBooysen) predicts TSLA shares to be included in the S&P 500. The expert states that Tesla wants to be slightly profitable instead of getting booming growth by lowering their car prices.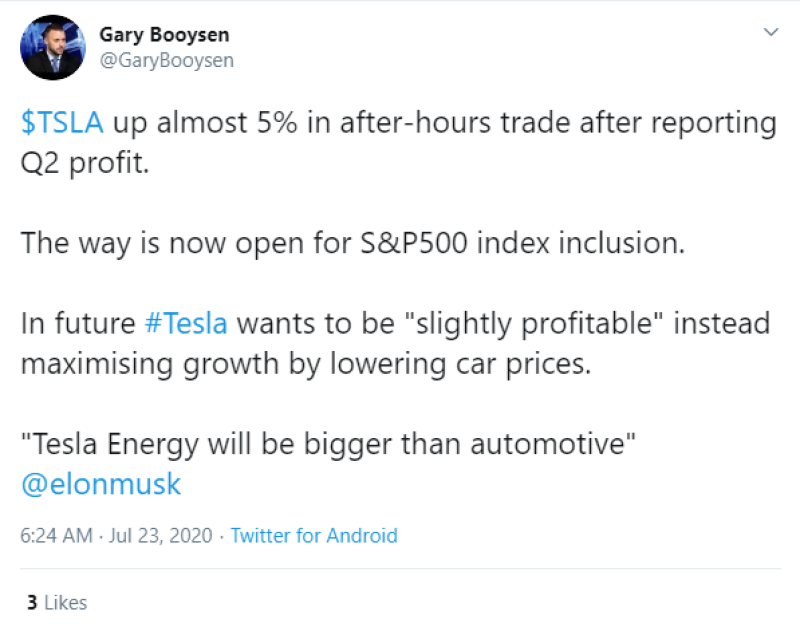 Image Source: Twitter @GaryBooysen
Tesla's Latest Q2 Profit Report
"Tesla has shown extreme survivability during those hard times", the latest report claims. The company has posted its fourth GAAP profit in Q2 of 2020 in a row. They have managed to generate $418 million of free cash. The administration of the company believes they have made a strong fundamental basis for the second half of 2020.
The production output continues to improve, Tesla adds resources. They are planning to build three more factories on three different continents by the end of the year.
According to TSLA's latest report, the company continues to invest in technology and localize production. The company will continue to manage cash effectively. Tesla has managed to increase the range of its Model S to 402 miles. Model Y is going to conquer the Chinese market.
As for the total revenues, they remained flat in Q2. According to the report, TSLA has increased the volume of vehicle deliveries in various countries. They have also improved their operating profit. The company had a positive impact by lowering operating costs and reducing employee compensation expenses. Their main technologies remain autopilot and full self-driving, vehicle software, batteries, and powertrain. Tesla expects its operating margin will continue to grow in the future reaching the industry-leading levels. They are planning to further expand their capacities. With that in mind, TSLA has all chances to become a 'member' of the S&P 500.