An analyst and an investor @MacroCharts indicates the unusual movement of the S&P 500 in the September.
S&P 500 Correction Without Fear 
The fact is that the index has been in a state of correction since the beginning of September. After the rapid growth in the summer, which allowed it to reach a new all-time highs, the index got corrected by almost 10% in less than a month and at the moment the downward trend continues.
However, throughout the entire correction period, the Fear and Greed Index shows extremely low fear values, which is not typical for a bear market.
$SPX corrected 10% from its high without ANY real Put/Call spike. Extremely rare historically: Bullish mid-90s, 2013 Bearish 1999-2000, 2007 Very odd that fear remains so low – particularly considering the massive Call buying into the SEP peak. Still a very complacent market. @MacroCharts via Twitter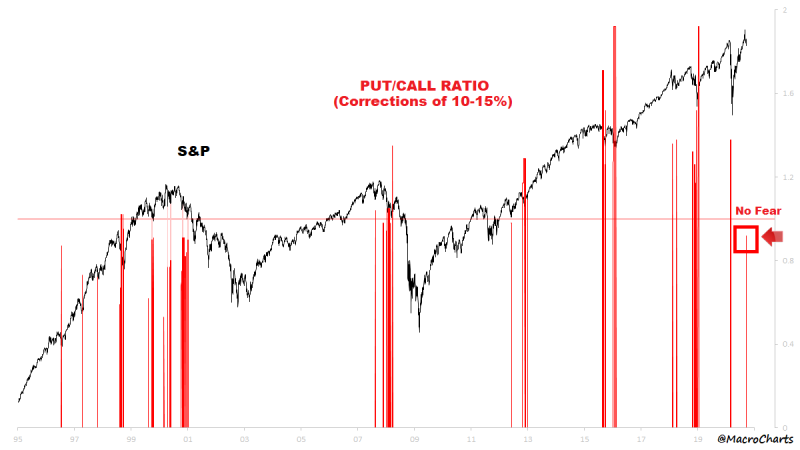 Image Source: Twitter @MacroCharts
Besides, there were no significant spikes in the put/call option ratio. The analyst notes that a market correction without an increase in demand for Put options, is a characteristic of a periodical sharp correction, has rarely occurred  in history.
Fear and Greed Index Shows Greed Despite the Correction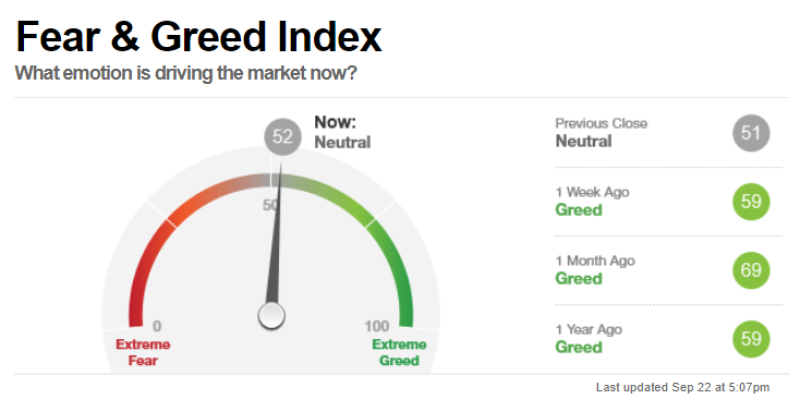 Image Source: money.cnn.com Fear and Greed Index
As the analyst duly notes, despite the ongoing correction of the S&P 500 index, investors' fear is very low. What's more, greed has been prevailing over fear throughout the month, according to the corresponding CNN indicator. As a rule, this is typical behavior of investors during a market rally, not a fall. Now the value is slowly approaching neutral values, but earlier it was steadily in the greedy zone.