Dow Jones Index Is Still Below the January ATHs
Despite a meteoric week of gains, the two big US indices, the Dow Jones Industrial Average and S&P 500 are still far behind the Nasdaq 100 in terms of annualized returns, even as the stock market rebalances and more and more tech investors leave.
According to Michael A. Gayed, portfolio risk manager and market analyst, notes that despite the rapid growth, the Dow Jones is still below its values ​​at the beginning of the year, the yield continues to be negative.
Despite the strong post-election stock market rally, the YTD performance of the Dow is still negative as of last week. $DIA $QQQ $SPY #Dow #performance Michael A. Gayed via Twitter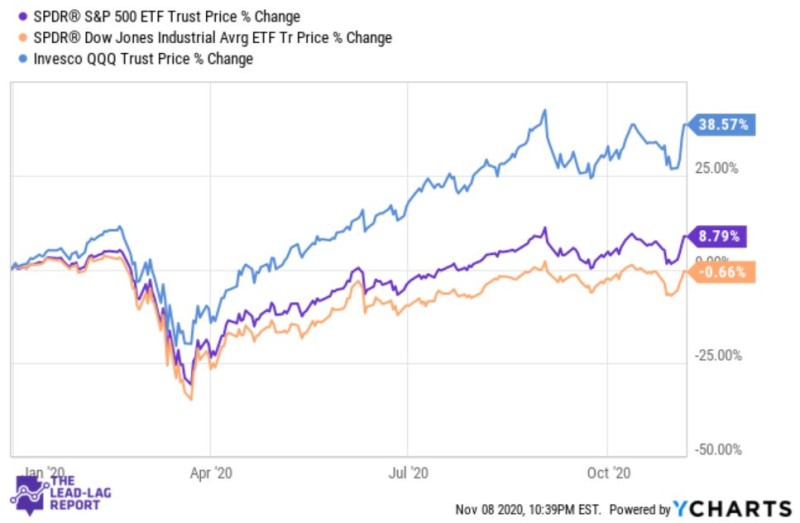 Image Source: Twitter @leadlagreport
The return on the S&P 500 index also shows no miracles, being at the level of 8-9%. At the same time, the Nasdaq, despite the ongoing exodus of investors from technology stocks and the tough September correction that hit the big tech companies the most, is showing incredible results, staying at + 38% since the beginning of the year. Thus, it was on the Nasdaq that the coronavirus had the lowest result.
Future Rebalancing from the Tech Companies Stocks
Nevertheless, the market may soon expect a continuation of rebalancing towards companies in other sectors. The process began earlier this week when it became known that Pfizer is as close as ever to a real coronavirus vaccine, as clinical trials have shown promising results.
The news sparked a precipitous bullish rally in the S&P 500 and Dow Jones, with a parallel decline in Nasdaq technology stocks. Besides, overall, this week was extremely productive for the stock market, as it broke the record for the volume of new funds entering the market.
In addition to the positive news about the likely imminent creation of a working vaccine against coronavirus, the markets were also influenced by the news about the victory of Joe Biden in the US presidential election. After the appearance of the anticipatory results, the markets, being in euphoria, began to grow rapidly.