Holger Zschaepitz, an author at The Welt and a market analyst, reports the incredible gap between insider selling and stock buying. According to him, insiders sold more than $287 million in shares last week, while purchases totaled less than $20 million, the lowest number since July.
"OOPS! Insiders disclosed selling $287.1 million of shares in the week ended Oct2 and buying $19.5 million. Purchases were the lowest since $13.8 million in the week ended July 31. So far this year, insiders reported $1.65bn of purchases and $15.1bn of sales.(via BBG)" Holger Zschaepitz via Twitter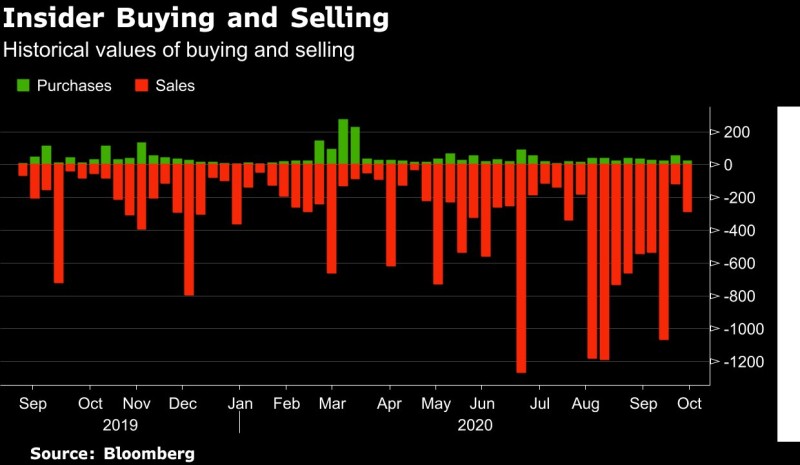 Image Source: Twitter @Schuldensuehner
In addition to the general gap between insider buying and selling this year, it is also worth to mention that insiders are in no hurry to buy the market, despite the end of the correction and the gradual growth of all market indices.
The analysts at @sentimentrader agree with him reporting that the ratio of insider buying to insider selling is at an extremely low level despite the recent market rebound.
"Corporate insider Buy/Sell ratio is at an extremely low level, despite the recent stock market pullback. Insiders aren't buying the pullback. This stands in stark contrast with March & April 2020, when insider buying surged to the highest level in years." @sentimentrader via Twitter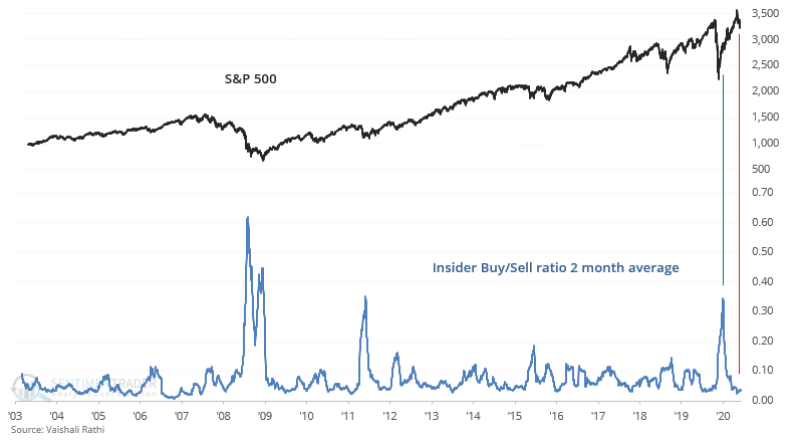 Image Source: Twitter @sentimentrader
This contradicts the behavior of insiders during the corrections in April and March, when the buy-to-sell ratio reached a multi-year high, being overshadowed only by the crisis of the 2008-2009 period.
Earlier, analysts have already drawn the attention of investors to the fact that, for some reason, the September's correction is significantly different from the others that happened this year. Besides, according to the analyst @MacroCharts, this time, insiders very accurately guessed when the market would be at its top, and it was at this point that sales peaked.