Jesse Felder, an analyst and a founder of Felder Investment Research, has released an analytical report in which he discusses the correlation between VIX and S&P 500.
Positive Correlation Between VIX and SPX Is a Sign of the Trend Reverse
Market Volatility Index, or as it is also called, the Fear Index, measures the uncertainty of investors on the market. The higher the volatility, the less stable the market and the higher the likelihood of a trend change is. Usually, VIX changes are opposite to market movements:
When stocks rise, volatility should fall and vice versa. When there is a divergence it can be a signal of an impending reversal. Jesse Feleder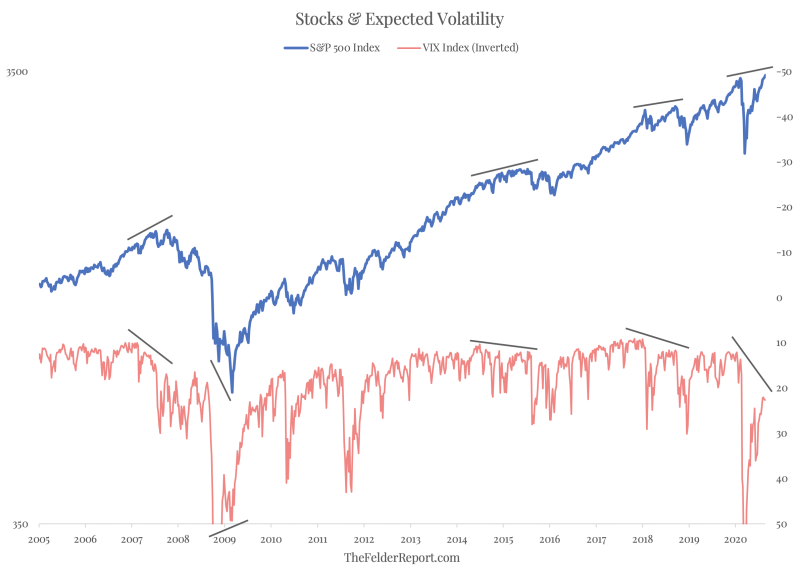 Image Source: thefelderreport.comN.B. The VIX chart is inverted here, so the trend change occurs when the charts move in different directions, unlike what is written in the article itself.
According to Mr. Felder, the market has seen some serious tops and bottoms driven by VIX divergences. In 2007, the bullish rally in the stock market was interrupted after volatility also surged higher. This became a red flag signaling a change in market direction.
Later, in 2009, on the contrary, volatility began to decline after the stocks hit their bottom. After that, there were several more similar inconsistencies, and it is precisely this that is observed again, despite the growth of the S&P 500, the VIX also showed growth today.
Short-Term VIX also Shows Positive Correlation for the First Time since January
Andrew Thrasher, a portfolio manager and a founder of Thrasher Analytics, confirms this information, drawing attention to the fact that today there is a positive correlation between volatility and stocks for the first time since January:
One of the several observations I pointed out in last nights Thrasher Analytics letter was the positive correlation between equities and volatility. This is the first time correl has moved positive since January. Andrew Thrasher via Twitter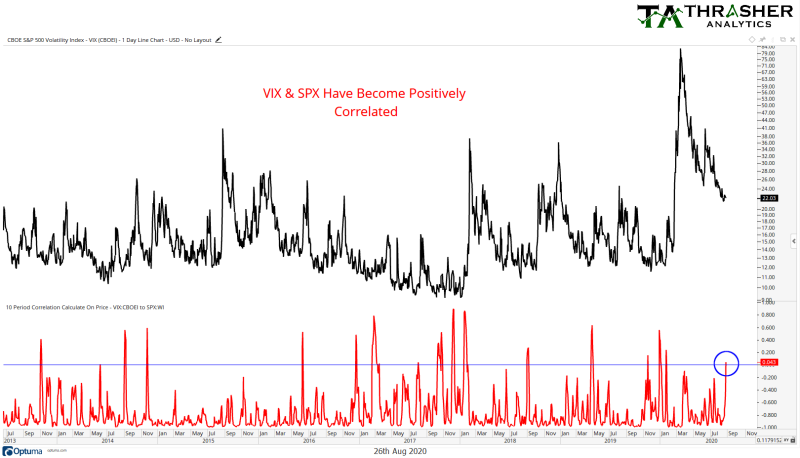 Image Source: Twitter @AndrewThrasher
Jesse Felder offers to look at the 10-day correlation between the S&P 500 Index and the VIX Index. Typically, a rise in the VIX above the S&P 500 indicated that a trend reversal was coming soon. At the moment, volatility is just approaching the S&P, as it was before corrections in the past.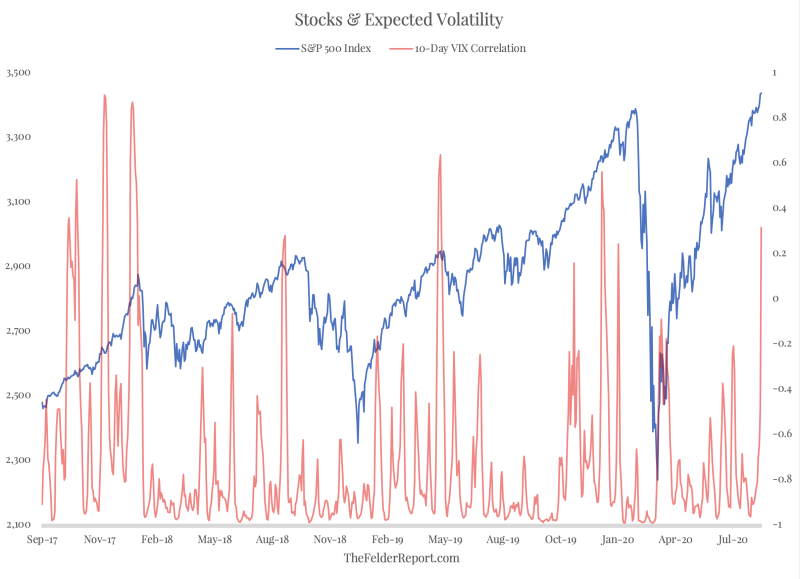 Image Source: thefelderreport.com