Nasdaq Record Gains
Ryan Detrick, a chief market strategist at LPL Financial, reports that S&P 500 yields are finally back to levels of early 2020 after a significant fall in winter and spring due to the coronavirus pandemic.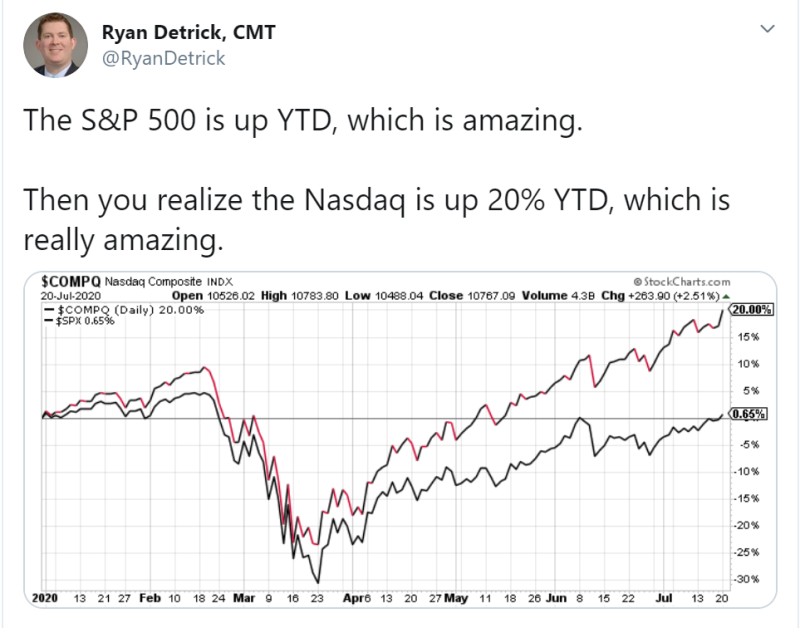 Image Source: Twitter @RyanDetrick
However, there is another index that deserves some praise - and it is Nasdaq. According to Mr. Detrick, the Nasdaq has not only fully recovered from the pandemic-related shocks since the beginning of the year, but has also grown by an incredible 20%.
S&P 500 is Winner too.
The S&P 500 is also in a relatively advantageous position. Michael Gayed, a portfolio risk manager and an analyst, relying on ETFs' returns tied to the largest US stock market indices, reports that the S&P 500, significantly outperformed the Russel 2000 and Russel 3000 indices, the profitability of which since the beginning of the year is negative and is equal to -10%.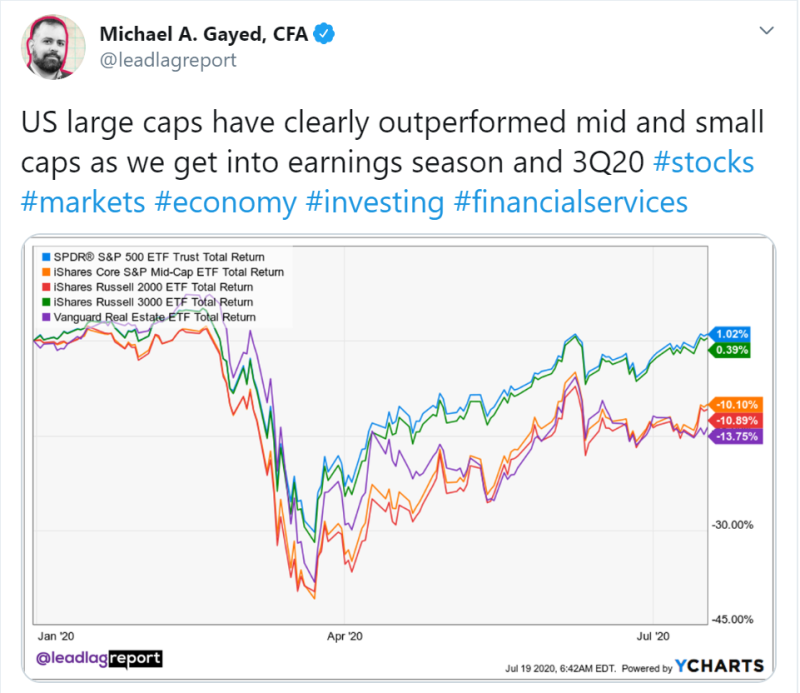 Image Source: Twitter @leadlagreport
What Does it Mean?
S&P 500 index includes 500 largest companies based on market capitalization on the stock market, while Russell 3000 tracks the performance of the 3000 largest U.S. traded stocks, which represent about 98% of all U.S incorporated equity securities. The Russell 2000 Index, in turn, includes the smallest capitalized Russell 3000 companies. The Nasdaq index reflects the performance of the world's foremost technology and biotech giants.
To sum up, all of this allows us to conclude that, at the moment the funds are distributed extremely unevenly on the stock market. Investors prefer buying stocks of the largest companies, whose quotes have been steadily growing over the past weeks. Some experts believe that the companies with the biggest market capitalization represent a huge bubble that is about to burst.
Technological companies, such as Tesla, are especially fond of investors, whose quotes grew 25 times higher than the returns on market indices.