Google is making a big investment in Italian business. Sundar Pichai, in his Twitter, published a message about the company investing more than $900 million in the development of the Italian business.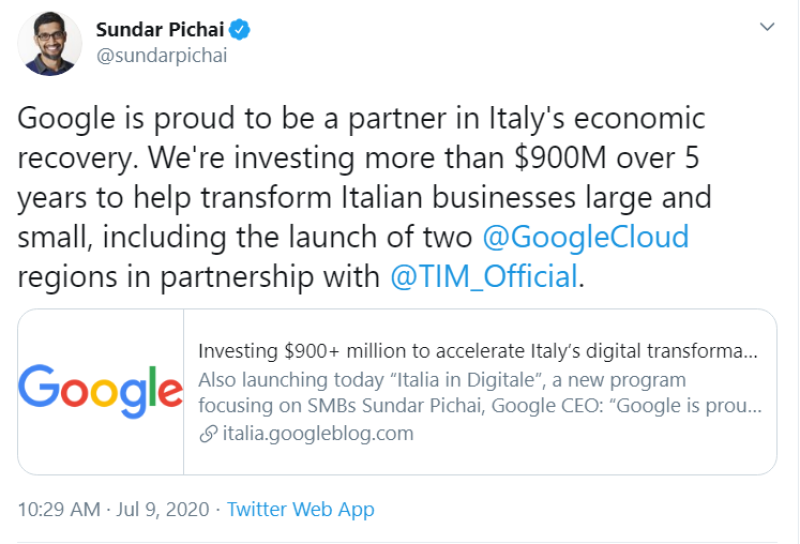 Image source: Twitter @sundarpichai
Google launches a strategic initiative to boost economic growth in the country today by offering a variety of resources, training and collaborations to benefit businesses and job seekers. 
Also, the company will launch two cloud regions in partnership with TIM. This will help Italian providers work in a powerful infrastructure supported by Google.
Google collaborated with governments all over the world, including Italy, around the clock during the pandemic to assist in solving the issue. Italian collaboration with the Ministry of Health offered vital knowledge on COVID-19, Maps and YouTube gave access to free distance learning services to millions of Italian students and teachers as schools were closed. Google has provided promotional loans and grants to Italian private businesses, government departments, and non-governmental organizations.
With improvements in working online, internet shopping and indoor entertainment and telemedicine, some economic sectors have been able to survive, but the recession has significantly impacted small enterprises, mainly because individuals are forced to stay at home. The industries that were hurt the most were related to traveling, retail and food. New McKinsey study has reported that 60 million jobs in Europe are now under pressure.