For three consecutive sessions, the Chinese stock market has had a positive trend. Growth has already been almost 1.3 percent over this entire time. The Shanghai Composite Index (000001.SS) is now above the 2,955-point plateau. There is no news background yet.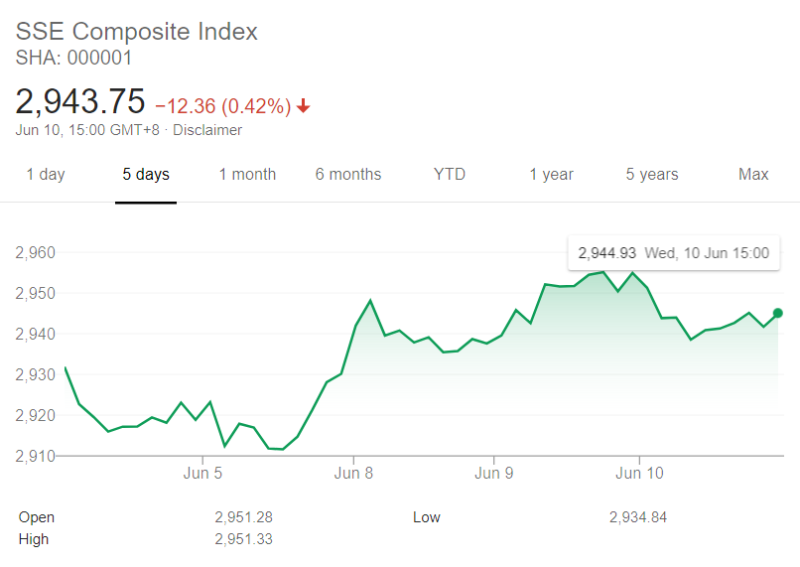 Image source: Google Finance
Traders will fix profits in anticipation of the results of the FOMC meeting. Asian markets follow the European and American markets and may also adjust. 
In addition to SCI there was growth in other assets:
Industrial and Commercial Bank of China +0,38%
China Construction Bank + 0,47%
China Merchants Bank +0,39%
China Life Insurance +0,87%
Ping An Insurance +0,29%
PetroChina +0,23%
Gemdale +0,88%
Poly Developments +0,27%
Baoshan Iron +0,44%
US indexes are trading in different directions. But the technology sector on the NASDAQ rose to its heights. 
The Dow -1.09%
NASDAQ +0.29%
S&P 500 -0.78%
Profit-taking triggered declines on Wall Street. In general, traders remain optimistic and, therefore, the shares do not hold very strongly. The market is waiting for new growth drivers. Today, the FED will make a statement on monetary policy. Even though no big events are expected, it will become a central focus of attention.
China will also release May's data on consumer and producer prices later today.
According to the forecasts, the decline in consumer prices is by 0.5%, but on an annual basis, it is projected to grow by 2.7%. Producer prices are tipped to fall 3.3% per year after falling 3.1% in the previous month.