The European Commission has launched an official antitrust investigation. The Commission will check whether Apple's introduction of contactless payment technology violates EU competition rules.
The investigation assess the introduction of Apple Pay into shopping apps and websites on iPhones and iPads. It will also be determined whether there are any restrictions on Apple's access to Near Field Communication (NFC) features for payments on iPhone.
I have therefore decided to take a close look at Apple's practices regarding Apple Pay and their impact on competition. Margrethe Vestager, Executive Vice-President of competition and digital technology at the EU
Apple Pay is an in-house Apple's payment feature available on iPhones and iPads. It simplifies the process of making payments in apps and websites, as well as in regular stores.
The Commission expressed concerns during the preliminary investigation. These concerns included a potential for Apple Pay's integration to reduce competition, choice and innovation since only this technology is used to purchase products and services in the App Store and on websites for iOS/iPadOS devices.
What did Apple violate?
The Commission will analyze the potential unfair consequences of Apple's activities in electronic payment solution.
If proven, the procedures under review can breach EU antitrust laws concerning company-to-business anticompetitive arrangements (Article 101 TFEU) and/or abuse them in a dominant position (Articles 102 TFEU).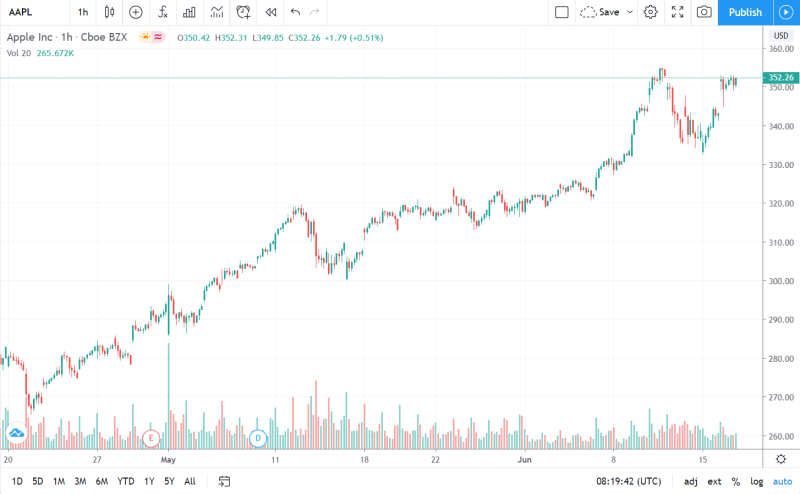 Image source: TradingView
Before the opening of trading on Wednesday, the share price did not change much. The price is in a sideways movement, the change was +0.6% compared to Tuesday's closing price.