Forex trading is very popular across the globe. You can hardly find a person in the US who is somehow connected to the financial markets and never heard of this type of getting profit. To start trading on Forex, you need to create an account with a broker first. We are going to review five top Forex brokers that are available for the US traders.
IG.com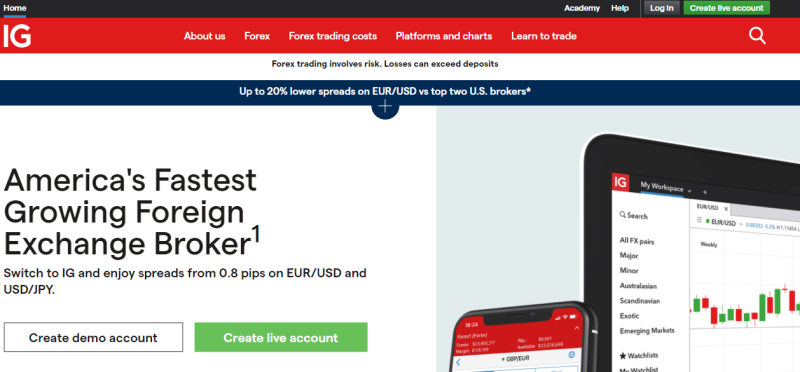 Image Source: IG.com
IG is the fastest-growing US Forex broker, which offers its services to the US traders. The company is known worldwide and has obtained the necessary certification to work with clients from the United States, such as CFTC and NFA permissions.
IG offers Metatrader 4 as a trading platform. This is a famous trading terminal that allows you to make trades and deep market analysis. Metatrader 4 allows you to use trading experts and side indicators. There is an open-source programming language allowing traders to create their own algorithms. 
IG offers mobile platforms for the most popular OS including Android and iOS. You can download them at the appropriate online marketplace for free. There is also a web built chart created on HTML5. It comprises of all necessary analytical tools and various types of orders.
Apart from trading opportunities, IG provides clients with training facilities. You can learn more about the basics of Forex trading as well as some important secrets about it including trading strategies. The best part of it is that you can try a demo version before you start trading with real funds. 
The average spread for EUR/USD currency pair is 0.9 pips. This means that you can use any strategy including day trading, pips tactics, and scalping. 
Forex.com

Image Source: Forex.com
You may think that this is the very Forex exchange, but that's not quite the case. Forex is not exchange, it has no single marketplace. Forex.com is a broker offering great trading services to the clients. Here you can find all you need whether you are a professional Forex trader or a newcomer.
Forex.com offers its proprietary platform along with Metatrader 4. You can download and install mobile trading terminals for Android and iOS. Forex.com has added MetaTrader 5 to its list of supported platforms. With 24/7 customer support and an impressive range of tools at your disposal, it's easy to see why this broker has struck a chord with traders of all skill levels. Forex.com's integration of MetaTrader 5 is sure to be a valuable addition to the traders trading arsenal. In addition, you may learn more about brokers for Metatrader 5 here.
This broker offers a special analysis section, where you can find the latest news and various reports. This section includes Popular Topics to learn more about the most important topics including Brexit, US-China Trade War, the US Presidential elections, and others.
Apart from great analytics, you can find an education section there. Various trading themes are presented there. You will learn more about the basics of Forex trading, the most popular analysis types as well as some trading strategies.
ATC Brokers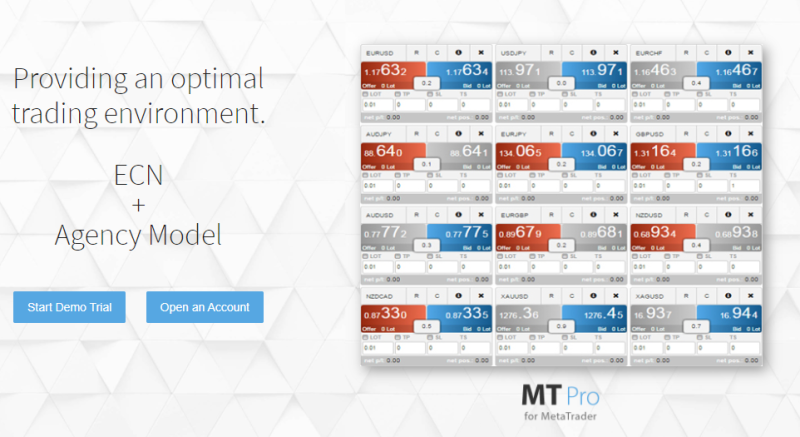 Image Source: ATC Brokers
This company's HQ is located on Cayman Islands. ATC Brokers offer Forex currency pairs, metals, and CFDs. You can deposit your funds using wire transfer or Union Pay. The minimum account size is $2,000 or its equivalent in EUR. 
The broker offers the most popular MetaTrader 4 trading platform and its mobile versions that you can download from Google Play or App Store. There is also an upgraded MT Pro platform, which adds a few more functions to the standard MetaQuotes terminal, such as a Profit/Loss balance chart, Performance feature, Time Analysis, and Winners/Losers pie chart.
Are there any reports and research? No, ATC Brokers offers nothing in this field. As for education, there are only a couple of basic articles about trading. This means that the ATC Brokers is more suitable for professional traders rather than for novice market participants. 
Even so, you can start trading with demo account. This allows you to learn more about the trading platforms as well as to practice your trading strategies. 
TD Ameritrade
Image Source: TD Ameritrade
This is one of the most popular US brokers. The company has all the necessary licenses to offers its services to US traders. TD Ameritrade provides you with a wide range of financial instruments including Forex, Stocks, and other securities. 
The brokerage company offers one of the most powerful trading platforms called Thinkorswim. It is available in various versions including web terminal and mobile stations. You can easily download the platform and start using it on your device.
There is a very rich research section where you can find the latest updates on various markets including stocks, derivatives, ETFs etc. This section is powered by serious companies including MorningStar, Reuters, and others. Apart from this, you can watch screeners to choose the stocks and other assets to trade. 
TD Ameritrade offers a very powerful education section where you can learn more about trading and investing. Here you will find all types of materials including articles and videos. There are also webinars to participate in . TD Ameritrade has a very interesting retirement program.
Oanda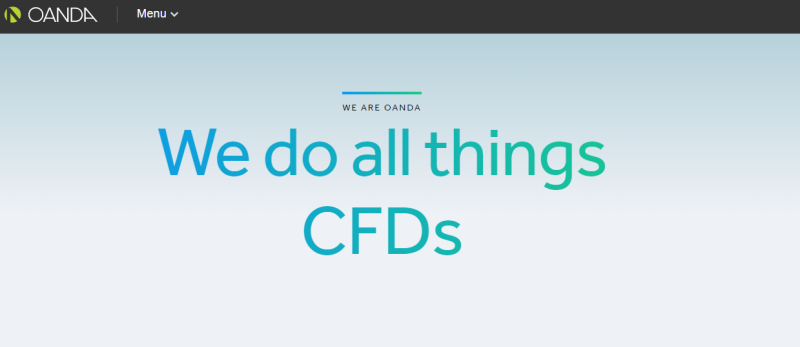 Image Source: Oanda
Oanda is a famous Forex broker established in 1996. The company offers Forex currency pairs as well as various CFDs. You can find metals, bonds, indices, and commodities there. Oanda is also licensed in the United States. 
How can you start trading there? You need to create an account and to download a platform. By the way, Oanda offers a web-based trading terminal that you can start using directly in your browser. There is also a famous MetaTrader 4 platform and mobile applications.
If you want to have some analysis tools ready available at all times, Oanda offers various interesting and useful solutions to you. The most popular one is an Oanda technical analysis scanner, which is used by many traders across the world. It is available on the Oanda trading platform. There is also a MarketPulse solution that you can use to analyze the markets.
Oanda offers a wide range of educational materials to its clients. You can read articles or participate in various events. They have a particular focus and money and risk management, which is a very important part of successful trading.
Conclusion 
Those are not the only brokers offering their services to US/EU clients. However, the companies we have reviewed here are on the top of the list. They offer great services to the clients providing them with the most updated tools and trading platforms.
We recommend regulated brokers licensed by trustworthy authorities like FCA or CySec. Due to regulations, brokers should keep deposits segregated, which guarantees that people won't lose their money if a broker goes bankrupt.