The Largest Volume Since March.
Lisa Abramowicz, a reporter from Bloomberg, shares statistics that the amount of debt with a negative yield is growing in the world.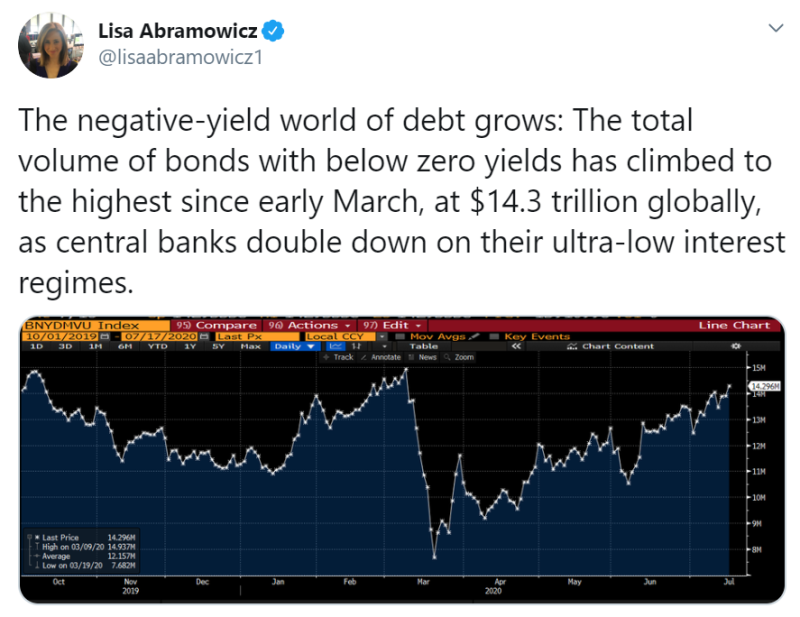 Image Source: Twitter @lisaabramowicz1
According to Abramowicz, there are about $14.3 trillion of debt in the world at the moment with negative returns for investors, as the number of central banks supporting an extremely low interest rate regime has doubled.
This is the largest volume of negative-yielding debt since the one reached in March when central banks cut rates around the world to soften the impact of the pandemic and the ensuing quarantine on economies of all countries.
What is the Negative Bond Yield?
A bond with a negative yield basically means that borrowers charge interest on the money they have borrowed, and the lenders must pay this interest. A similar situation is typical for an economy during a crisis or a recession when central banks have to cut an already low interest rate.
Thus, at a certain point, it turns out that interest rates on bank deposits or government bonds not only do not bring any profit to their owners, but also oblige them to pay a small percentage for the fact that their money is borrowed by a reliable borrower - usually the state.
Is it Bad for the Markets?
However, not everyone thinks that negative-rate debt growth is bad for the economy.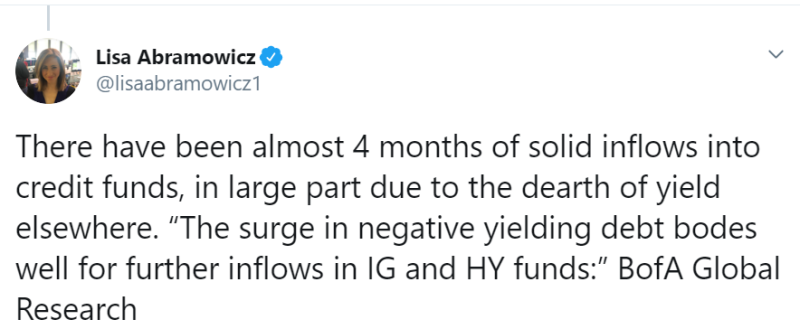 Image Source: Twitter @lisaabramowicz1
According to the Bank of America's Global Research, which Lisa Abramowicz refers to, the growth of the debt with negative yields has led to an increase in the flow of finance to credit funds that provide higher yields. Apparently, this will continue in the future and the stock market will experience an influx of funds that will continue to move away from negative.