Recently, investors in the cryptocurrency industry have been talking only about DeFi. The new trend of 2020 is gaining new momentum and with it new challenges and discoveries.
Thus, the Tron blockchain ecosystem sets new records for the number of addresses. This was announced on Twitter by the founder of the Tron blockchain, Justin Sun.
According to @TRONSCAN_ORG, the total number of accounts on #TRON has surpassed 9 million and reached 9,135,898.The TRON ecosystem is growing at a steady pace, we welcome more developers and users to join our community. #TRX Justin Sun @justinsuntron via Twitter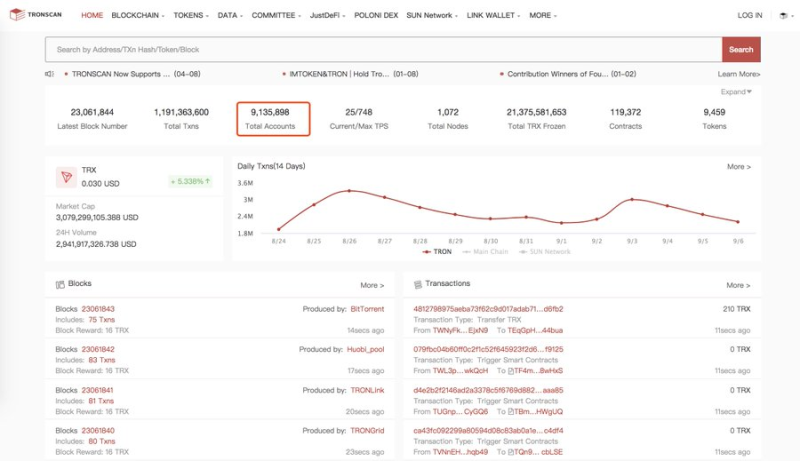 Image source: Twitter @justinsuntron
What is the Reason for the Growth?
The growth in the number of addresses was triggered by an upcoming event in the Tron blockchain ecosystem. You must pass Genesis mining, where users are asked to freeze their TRX and get SUN tokens in exchange.
The project's website states that this is "a social experiment, which focuses on the DeFi potential of TRON." 
On September 2, just four days ago, Sun Genesis mining started on the Tron network. However, TRX investors are not afraid to block digital assets to get SUN tokens due to the young age of this project.
The introduction of Sun Genesis led to a two-year Tron valuation of $0.05 (Binance rate) on the 3rd of September. The new Sun Genesis has been a success. Shortly after, Bitcoin research amounts under $10k were traded on the volatile crypto sector on four different occasions.
Tron (TRX) managed to maintain its own during the ongoing time of market volatility at just $0.027. With the crypto markets in the green once more, TRX is traded at $0.032, and if everything goes well, in the following days, the digital asset will hit a double difference.