The Chinese Y version has been released from the Tesla's China website and can be chosen by the customer from two versions, the long-distance All-Wheel Drive and the Performance Versions. The starting price for the model is $70,000.
At the same time, the price of Tesla's share was registered positively. On Monday the price surpassed the mark of $2,100 and it looks like it is not going to stop.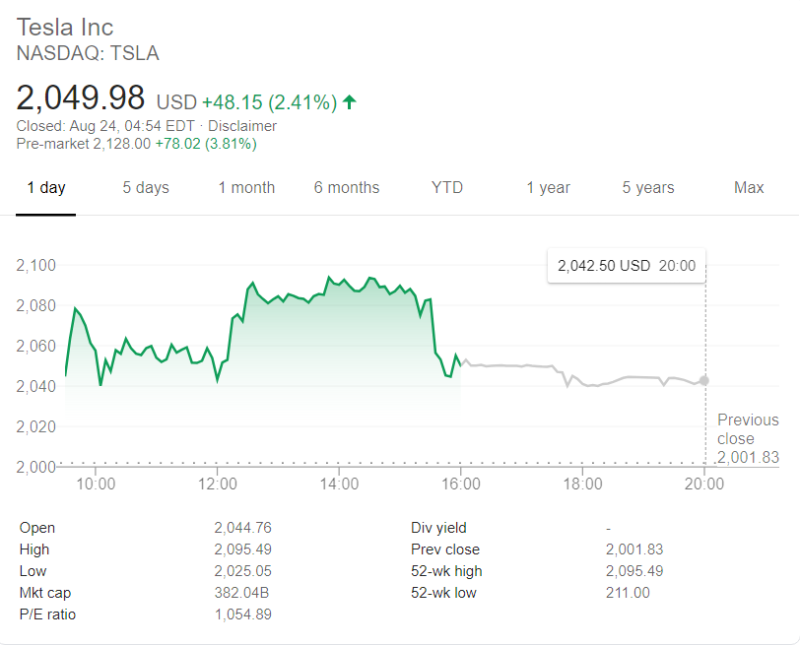 Image source: Google Finance TSLA
At the moment it is a historical maximum. Last week, Tesla's shares made investors happy by breaking through the $2,000 mark.
In early 2021, Chinese Model Y, as reported in the Chinese press on August 20, is about to start rolling out its production line in Shanghai's gigafactory. 
Model Y has an operational range of 505 km and a speed of 5.1 seconds between 0 and 100 km. The edition with high performance has a range of 480 km, with a speed of 0-100 km, 3.7 seconds.
In March of last year, Model Y, the second SUV by Tesla, was launched. Initially, deliveries were not expected to start until Fall of 2020, but exports to the United States began late March of this year, ahead of schedule due to an improved production line and smooth release.
Back in July of this year there were several available vacancies for 1000 employees in Shanghai. According to media sources, it was planned to recruit staff to develop the Model Y.