Graphs with data from Glassnode show an increase from 5.1% to 13.8% among users who own 10 or less BTC since June of  2015. At the same time, the number of bitcoin wallets in the range between 100 and 100,000 BTC was reduced from 62.9% to 49.8% within 5 years.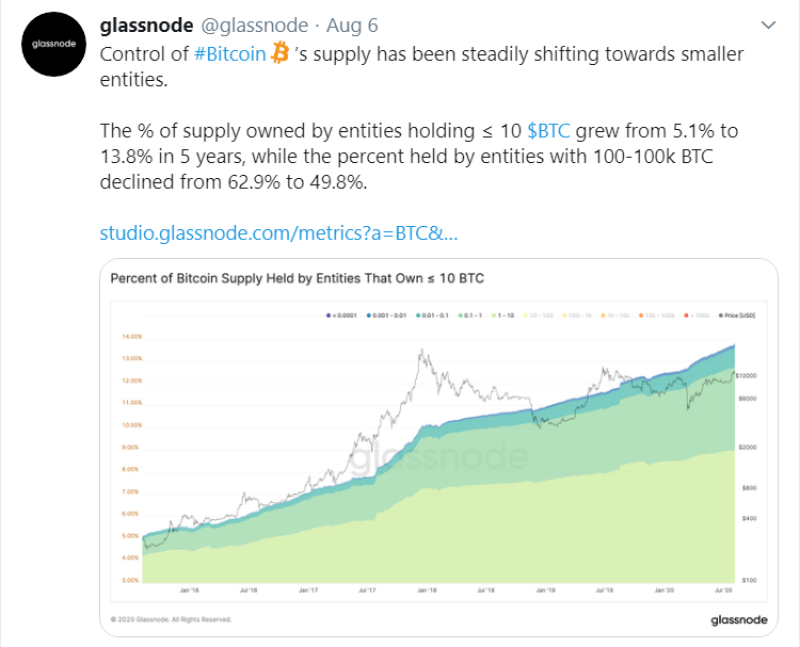 Image source: Twitter @glassnode
Today there are almost 18.6 million bitcoins, most of which are in the hands of whales. Only 21 million coins could ever be issued, making Bitcoin inflation-resistant and a possible gold mine for long-term investors.
However, rich persons or companies known as whales, which can be defined as the 'deep-state' version of the BTC community itself, are often accused of market manipulation by using their huge asset holdings at higher or lower price rates.
Glassnode noted in an earlier report that by July the number of bale-wrappers with 1,000 BTC or more had gone up to 1,882 – yet no longer as wealthy.
It said that every whale's average balance has fallen during the current period to less BTC than in 2016, and lower wealth in terms of dollars than in 2017.
Nevertheless, a week earlier, Bitcoin set a new record for hashrate in its network. The difficulty of the Bitcoin network increased by more than 9.8%, to the most complex level ever. Bitcoin mines made it even more difficult to reach an unprecedented high value of 17.35 trillion. The average hashrate of the Bitcoin network is consistently over 120 exahash/s (EH/s).