The Worst Day in the History of Zoom
The trading day on Monday turned out to be extremely unfortunate for the shares of Zoom, a communications technology company, which provides video telephony and online chat services. The company's shares plummeted more than 17% in the first minutes of trading and were never able to recover. This is primarily due to the emergence of information that the coronavirus vaccine is becoming more and more real through the efforts of BioNTech and Pfizer.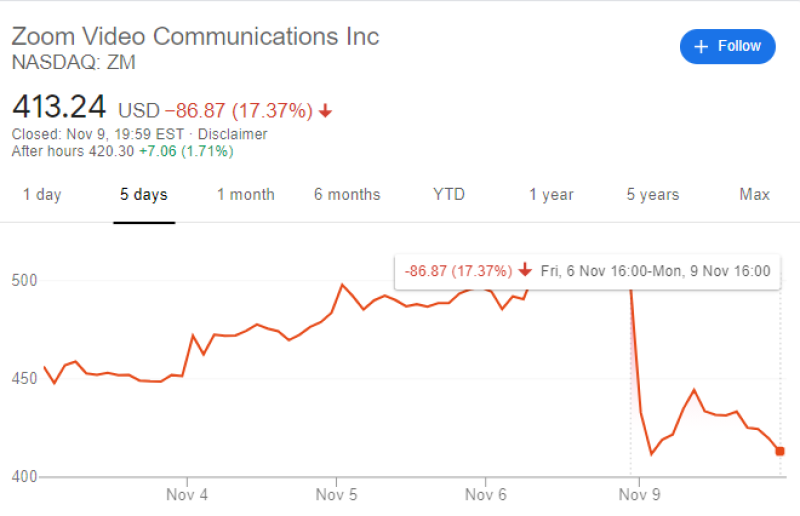 Image Source: Google Finance ZM
Zoom, on the other hand, is one of the main beneficiaries of remote work and study, thanks to which the demand for the company's products in 2020 has grown incredibly. Now, when it becomes more and more obvious that there will not only be a new lockdown but possibly no measures at all, the company's shares have fallen in price.
Nevertheless, not all experts are inclined to further fall in the company's shares. @joealertz, technical and trend trader, believes the decline is temporary and will stop very soon given the company's quarterly results. According to the trader, they will be extremely positive, which will be a trigger for growth. Recall that the publication of quarterly reports Zoom is scheduled for November 30.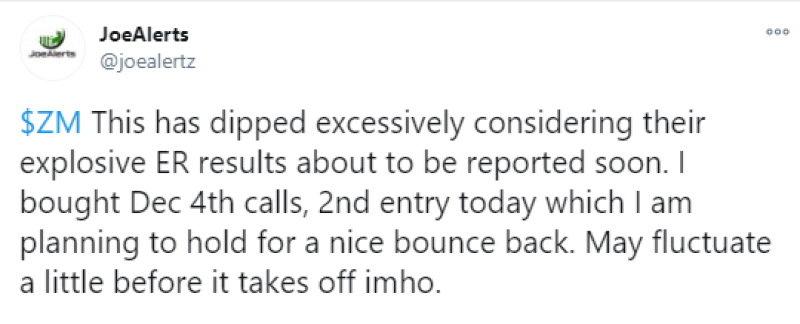 Image Source: Twitter @joealerts
Nothing to Change in Demand for Zoom
Jon Ma, the market analyst, also notes that fundamentally nothing has changed for Zoom: in the new environment, many companies have already adapted to hybrid teleworking of many employees, and the company's financial indicators are very impressive and are the best among competitors. From all this, it follows that there is no reason for a panic sale, and it is very likely that Zoom shares will soon return to their previous price.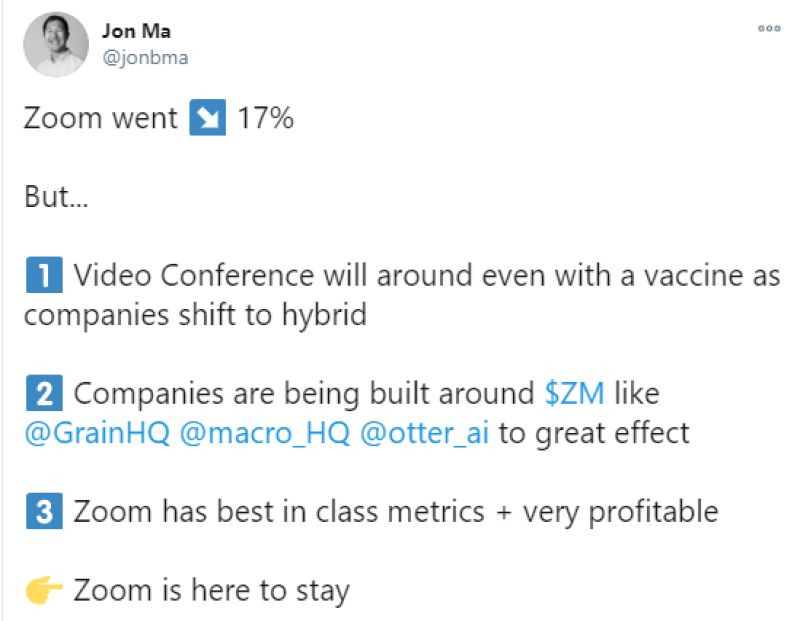 Image Source: Twitter @jonbma
Earlier, the big ARK ETF acquired over $125 million in Zoom shares around all-time high price, anticipating future gains. However, since then, stocks have not been able to hold on to higher prices for long and have tumbled down. Now, thanks to information about the imminent appearance of a cure for the coronavirus, the company's shares are even further from the all-time highs.