The preference of Robinhood users has slightly changed since yesterday. Despite the modification to the list, Apple (AAPL) still holds its place in the top 3 list among the favorite companies.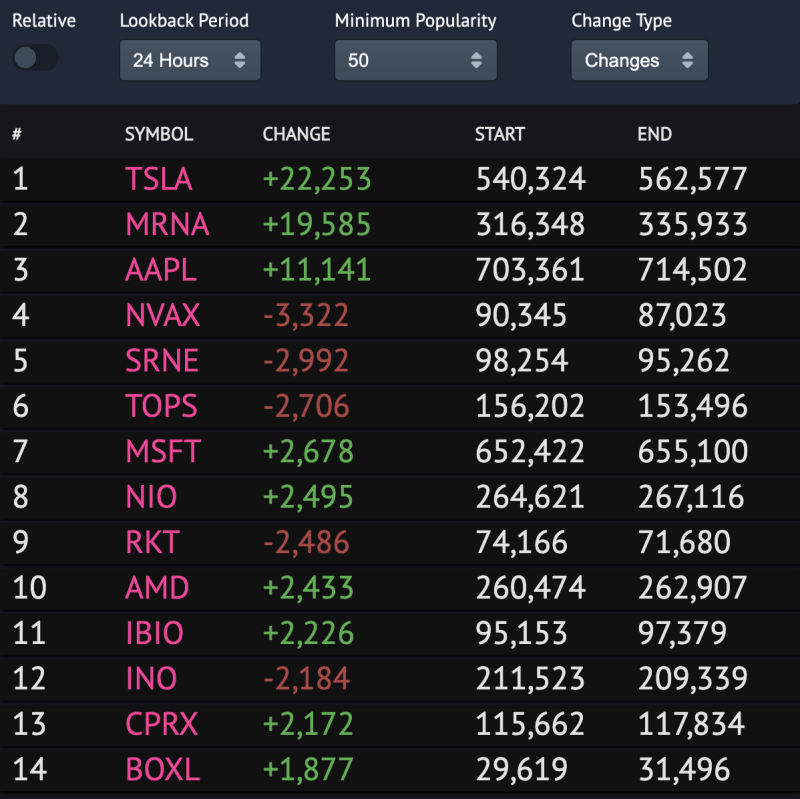 Image source: Robintrack
Tesla's board has approved a five-to-one share split to make it more accessible to employees and investors.

Image source: Robintrack
After the market closes on August 28, 2020, each shareholder from the register as of August 21 will receive dividends in the form of four additional ordinary shares for each share held by him. Tesla announced that trading will begin taking into account the crushing on August 31.
In July, Tesla reported profit for the fourth consecutive quarter, the company received $ 104 million in April-June. This means that it can be included in the S&P 500 index, which may be of interest to new large institutional investors.
Moderna Inc., an American biotechnological company, has made an agreement with US authorities to supply 100 million doses of its experimental coronavirus vaccine to more than $1.5 billion of American citizens.

Image source: Robintrack
Moderna plans to produce at least 500 million doses per year starting in 2021, with a maximum volume of 1 billion. Taking into account the cost of the agreement, the price of one dose is about $ 15. That's lower than the $ 32- $ 37 per dose, the company quoted last week for small shipments.
Moderna's vaccine is one of the most advanced one. It is currently undergoing advanced clinical trials with 30,000 patients.
Moderna's shares are up by 9.9% during preliminary trading on Wednesday.
Apple (AAPL) Keeps Growing Despite the Infringement of 4G Patents
A Texas court ordered Apple to pay $ 506.2 million to Optis Wireless Technology in royalties for patent infringement on 4G in iPhones and other Apple devices.

Image source: Robintrack
The court found infringement of five patents and found the infringement willful. Apple itself considers the companies' patents invalid and promises to appeal. However, the price of the stock is neglecting this news, rising by 2.50% over the last 24 hours.