According to the chief U.S. economist, Gregory Daco (@GregDaco), America is facing the biggest decline in GDP for the last 50 years.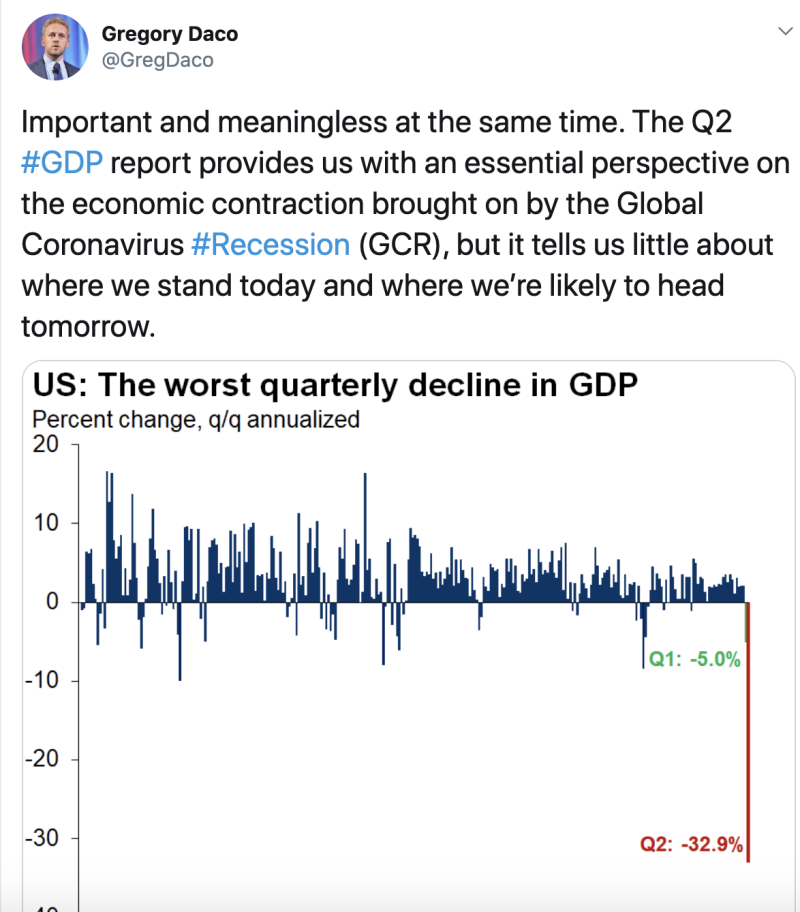 Image source: Twitter @GregDaco
In the first quarter, GDP of the US fell by 5%. GDP of the same period last year grew by 2.9%. In the second quarter of 2019, the country's GDP grew by 1.5%.
However, the S&P 500 (SPX) has remained in the same position after this news. Moreover, the index has changed by only 2.29% over the last week, which means that there is a sideways trend at the moment.
Image source: TradingView SPX
In the coming days, a slight correction may occur with a transition to a sideways movement. At the same time, the increase in sales can be observed in case of a breakdown of the support level of 3,200 p. Such a breakdown will indicate a break in the 1.5-month ascending channel and the possible completion of the V-shaped recovery.
On the mid-term horizon, a wide sideways trend is likely to occur. Periods of optimism and hope for economic recovery after a recession will alternate with anxiety over certain negative risks, which are mainly associated with the coronavirus pandemic and trade conflicts.
S&P 500 (SPX) is trading at 3,249 at press time.