Tesla's Stock Price Drops by 2%
The stocks price of Tesla, the electric car maker with the highest market cap, fell by more than 2% during Tuesday's trading. However, the aftermarket brought some relief, with the stock recovering 0.63% and moving slightly higher.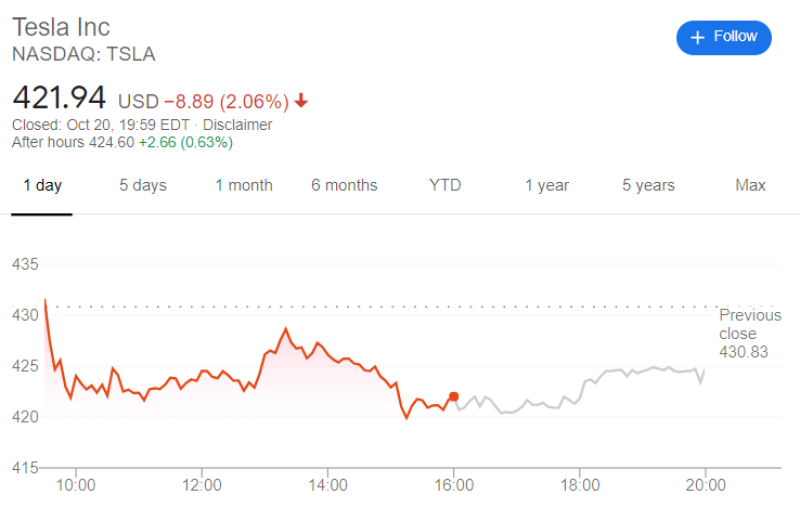 Image Source: Google Finance TSLA
Two Reasons of the Decline
The first reason that influenced investor confidence and the stock price is information that the number of Tesla electric car registrations in California decreased by 13% in the third quarter of 2020.
California is the largest domestic market for the company. According to the Reuters report, about 16,000 vehicles were registered in the third quarter. While this represents a significant increase over the second quarter (there were about 9,800 electric vehicles registered), the number is still worse than in the third quarter of 2019.
The second reason for the fall is that Tesla confirmed that there is a design flaw in its Model 3, which led to the loss of the rear bumper when driving through puddles. According to Electrek, even though the issue has been known for two years, the company has only now officially admitted having the problem. Besides, Tesla said that fixing this problem will be included in the guarantee, so investors are probably worried about the possible impact of this step to the company's bottom line.
The Trade Volume Was Two Times Lower than Average
Despite these difficulties, Sawyer Merritt, a market analyst and a co-founder of Twin Birch, points out that Tesla's share price decline occurred at half the daily average volume, 35 million shares vs. 71 million. This suggests that this decline is not a signal for the beginning of a bullish trend, as it is not confirmed by sufficient volume.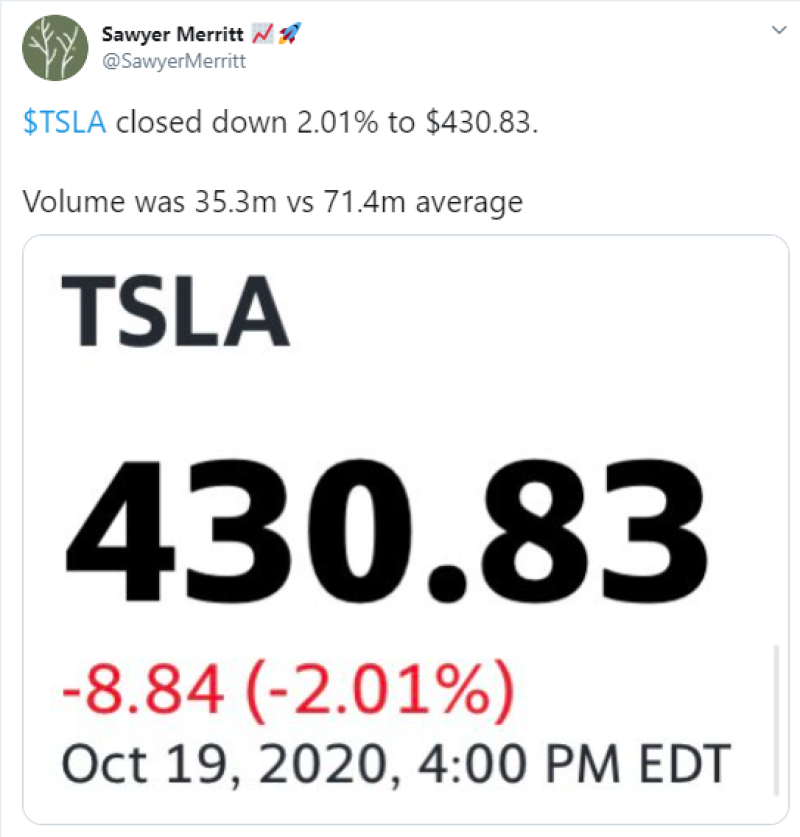 Image Source: Twitter @SawyerMerritt
Previously, Tesla managed to become the 11th company in the world in terms of capitalization, outperforming Walmart. However, the company is not doing as well in the fall as it did in the summer, when the company's shares rose by an incredible 177%.
Tesla met Fall with significant downward trends, while the company was unable to overcome the gap caused by the September's market correction. The stock is currently trading 15% below the all-time high set in early September.