Tesla Stock Fell Despite the Announcements
For electric vehicles manufacturer Tesla's shares, Tuesday was supposed to be "very insane" according to Elon Musk, as it was on Tuesday that a highly anticipated event called Battery Day took place. However, Tuesday was not a triumph, but a dark day for the company as its stock dropped by more than 12%.
Mr. Musk announced a $ 25,000 Tesla to be built in 3 years, a new version of the Model S that will cost $140,000 and will be EV with the quickest acceleration ever and also batteries of improved capacity.
Briefly, announcements can be presented as follows: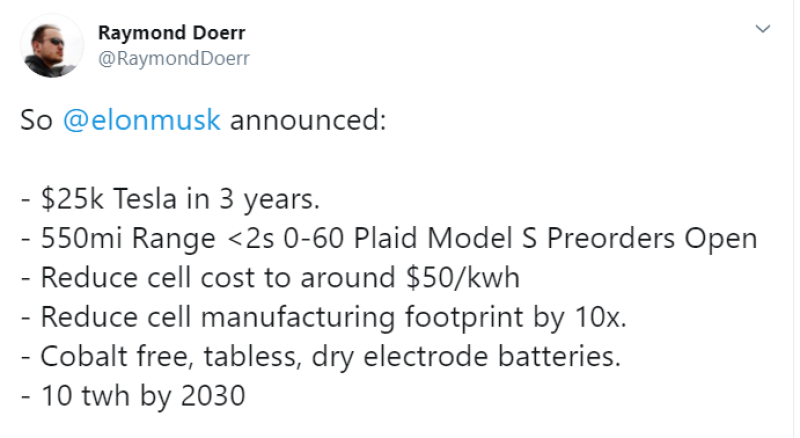 Image Source: Twitter @RaymondDoerr
Despite promising announcements and positive news, the market reacted negatively to the Battery Day event, with shares losing more than 5% during the main session, and then almost 7% during the aftermarket hours.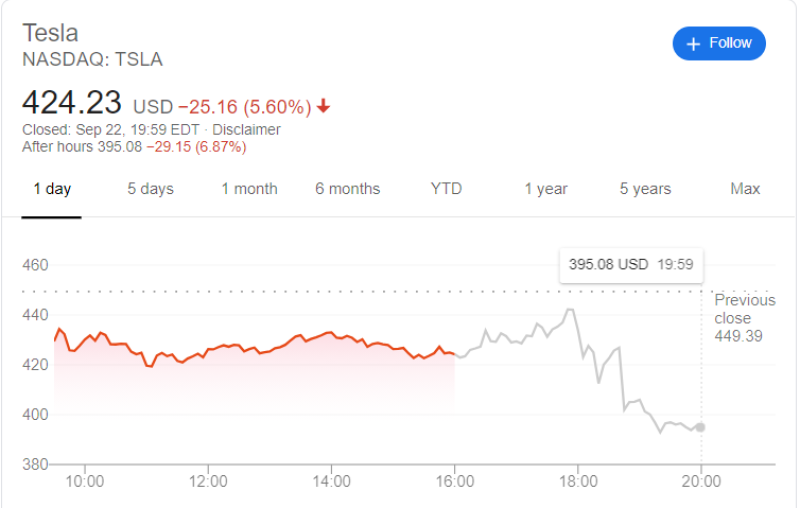 Image Source: Google Finance TSLA
Investors Still Have Confidence in Tesla
However, investors continue to have confidence in the company over longer time frames. Jonah Lupton, a famous entrepreneur and an investor, admits the possibility of Tesla going down even further in the upcoming days, but clarifies that he is fully determined to buy the dip now, increasing the share with each price decrease. Mr. Lupton believes that in the long term, the company will surely recover its losses.
I'll add tomorrow if $TSLA gets under $395 then again at $385 and $375 and keep adding as long as it keeps dropping. I'm happy to trim some other positions along the way but I'd rather use new cash. This is the 50d ema/sma/wma: Jonah Lupton Via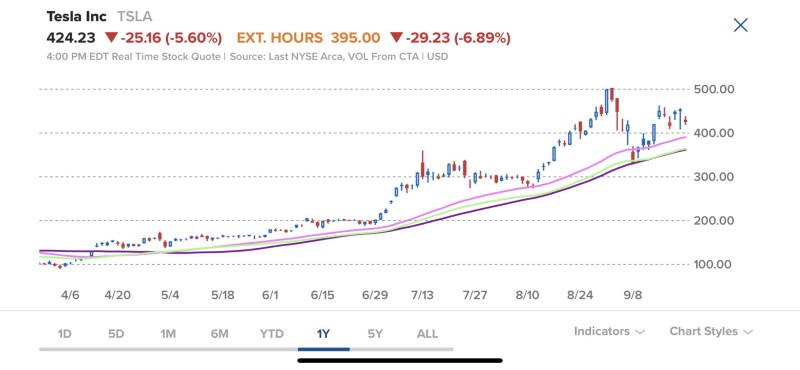 Image Source: Twitter @JonahLupton
Gary Black, the former CEO of Aegon Asset Management, believes that Elon Musk failed to turn vague multi-year promises into a clear and concrete strategy for several years that would be understandable to investors and would allow them to know that Tesla has everything under control.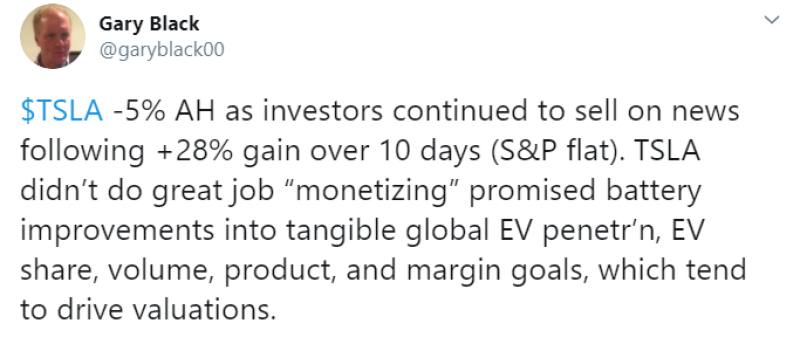 Image Source: Twitter @garyblack00
However, he thinks it is necessary to remind that in the last 10 days the company's shares are up more than 28%, hugely overperforming the S&P 500 Index, so there is no need to pay  too much attention to the current decline.