The three companies that have got the most attention from Robinhood app users this week are Apple, Microsoft, and Rocket Companies. They became favorites with a huge margin over the shares of other companies. Fourth on the list, DiamondPeak Holdings attracted only 22,519 new investors - three times less than any of the first trio.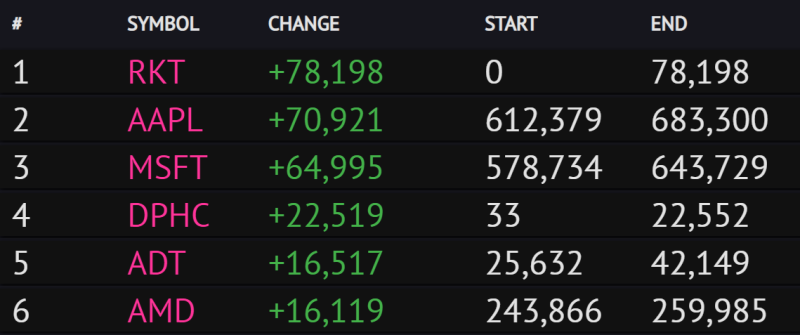 Image Source: Robintrack
Rocket Companies Skyrockets to the New Highs on IPO.
Rocket Companies is the absolute champion in terms of the number of new buyers. Rocket Companies is a holding company that consists of brands of personal finance and consumer services. In seven days their number grew by 78,000. It is all more surprising that this number of investors appeared only on Thursday, because it was then that the company held an IPO. The company was able to get $1.8 billion on it.
In two days of trading, the company's shares rose by more than 35%, from $18 to $25, and, of course, attracted attention of Robinhood users. The number of owners of the company's shares grew along with the growth of the stock exchange value of shares.

Image Source: Robintrack RKT
Apple Stocks Benefit from Promising Results of Quarterly report
The second most popular choice was Apple. The number of AAPL stocks' owners has grown by almost 71,000.

Image Source: Robintrack AAPL
Apparently, this popularity is due to the fact that earlier the company pleased investors with promising report results: total revenue increased by 11% year over year despite the pandemic, which was driven by an increase of sell of both products and services. Apple also announced a 4 to 1 stock split. This is another incentive for price growth, as the split allows more people to buy shares.
In addition, the company is close to a market capitalization of $ 2 trillion, which no one has previously been able to do.
Microsoft is Going to Buy TikTok and Robinhood users are happy about it
Microsoft is also this week's favorite. This is due to the strong quarterly report, which beat experts' forecasts and was also positively impacted by the news that Microsoft is going to buy TikTok. If this deal, slated for mid-September, goes through, MSFT could become the owner of the largest media content network. The Robinhooders are optimistic about this, so in a week the number of owners of shares has grown by 65,000.

Image Source: Robintrack MSFT